Vinaychand A Case Of Mistaken Identity
By SAMPURN
Monday, September 20, 2010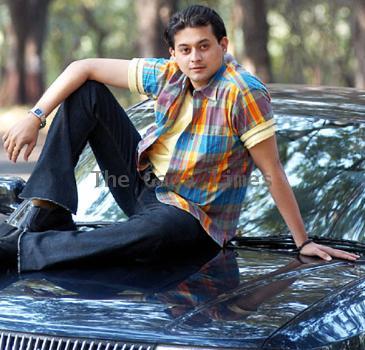 September 20, 2010 (Sampurn Wire): Good actors often have to suffer from mistaken identity and this time Swapnil Joshi became its victim, although a bit hilariously. Swapnil Joshi plays the role of Vinaychand in 'Papad Pol' the famous show from SAB TV and most of his fans are convinced that the actor is a Guajarati. Swapnil happens to be an ardent fan of Lord Ganesha and every year he celebrates Ganesh festival at his home. This year Swapnil invited his friends and family members to the Ganesh Visarjan.
During the Ganesh Visarjan one of Swapnil's fans identified him and asked him if he found it difficult to follow Marathi. Apparently, the fan thought that Swapnil was having a hard time understanding all the Marathi rituals and customs. The cast members of 'Papad Pol' were present with Swapnil at the time of the incident and this incident made them break out in laughter. Since then Swapnil is getting his leg pulled on the set continuously. The cast members have also named him "Swapnil Gujju Bhai Joshi".
The incident clearly shows that Swapnil is a great actor, who can make any role come to life. Commenting on the incident, Swapnil said that the cast members made a fun song in Guajarati for all the Gujarati fans of Lord Ganesh to mark the incident. We hope Swapnil keeps up the good work and wins the hearts of all his fans.
– Sampurn Wire