SAB TV Unveils Papad Pol!
By SAMPURN
Tuesday, June 22, 2010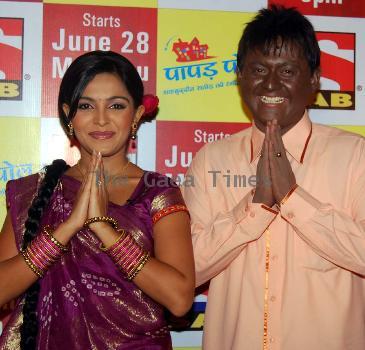 June 22, 2010 (Sampurn Wire):SAB TV introduces one more sitcom to their audience. It is named 'Papad Pol-Shahbuddin Rathod Ki Rangeen Duniya' and as the name suggests, the Papad Pol (Area) is filled with colorful personalities, each unique in their own right.
The press conference held at J. W.Marriot (Mumbai) required the media to wait. But the promos of the show were certainly worth the wait! Swapnil Joshi, who essays Vinaychand in the show, took the entire crowd to visit his 'Papad Pol' so that they could have a look at it themselves. The story revolves around Vinay who is a very ugly guy but confident about getting a beautiful wife. But of course he gets rejected by the girls who catch his fancy. The character is all about positive thinking. Swapnil says, "It's the deed that matters and makes someone love you and not the external beauty. That is exactly how my character in the show is."
"Papad Pol - Shahbuddin Rathod Ki Rangeen Duniya" is a show based on the story of the imaginary world of characters created by Shahbuddin Rathod. The characters include Vinaychand, Kokila (Ami Trivedi) and Jayantilal (Tapan Bhatt). The story revolves around the Parikh family who, are searching for a perfect match for their 32 year old son Vinaychand, He is a school dropout and the apple of his mother's eyes. There are several other families who stay in close vicinity to the Parikh's. They behave like one big extended family .The show begins with the entire community of 'Pol..' coming together to search for a perfect bride for their beloved Vinaychand.
The show promises to deliver a good message along providing the laughs. Don't forget to tune in to the show 28th June onwards, Monday to Thursday at 8 pm only on SAB TV.
–Tejashree Bhopatkar / Sampurn Wire