Larry Forgione's Son Is An Iron Chef
By Reema, Gaea News Network
Monday, November 22, 2010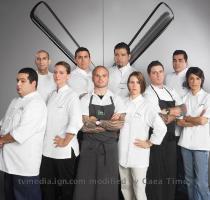 more images
LOS ANGELES, (GaeaTimes.com)- We all know that Larry Forgione is one of the best cooks in the United States. Now, it has also been proved that his son, Mark Forgione is no less than his father. He has made his mark as a chef and owner of Marc Forgione in New York. And now, he emerged with the title of the "Next Iron Cook", in the popular Food Network show.
Larry Forgione's Son was competing with yet another experienced and leading cook, Marco Canora, who is the chef and owner of Hearth, Terroir and Terroir TriBeca in New York City. Marco Canora won 5 of the last 9 challenges in the show. No one could anticipate the victory of Marc Forgione against Marco Canora. However, his creativity and novelty worked in his favor. While on the other hand Marco Canora's traditional way of cooking lagged him behind in the very cut throat and close competition. They were judged by a Thanks Giving Meal, which they were supposed to prepare with the help of heritage turkey, duck and lobster. By the end of the show, the judges said that although Marc Forgione did not use Turkey, which is regarded as an essential part of the Thanks Giving dinner, he was crowned with the title because of his creativity and presentation.
Marc Forgione had a great advantage growing up as the son of Larry Forgione, who is regarded as the "Godfather of American cuisine,". This imbibed in him the essence of American ethos while cooking a meal. Marc Forgione said that it was essential for him to establish his own identity, rather than as the son of Larry Forgione. He therefore decided to just give his best in the competition. The five judges, Donatella Arpaia, Mychael Simon and Simon Majumdar, Bobby Flay and Masaharu Morimoto, were too delighted after tasting the new five dishes that he cooked on the show.
Filed under:
Entertainment
,
Lifestyle
,
Media
,
News and Gossips
,
TV Previews and Reviews
,
TV Show Synopsis
,
Television
,
World
Tags:
Bobby Flay
,
California
,
Donatella Arpaia
,
Food Network
,
Larry Forgione
,
Los Angeles
,
Mark Forgione
,
Masaharu Morimoto
,
Mychael Simon and Simon Majumdar
,
Next Iron Cook
,
United States