"Top Gear USA" Disappoints Many
By Reema, Gaea News Network
Monday, November 22, 2010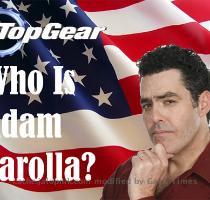 more images
IRVINE (GaeaTimes.com)- "Top Gear USA" a new motoring television series and a reality show was premiered yesterday on History Channel. Many car freaks expected this show to be a real thriller with lots of crazy adventure, humor and deadly stunts. However, as the show ended, it took no time for the audiences to realize, that the show could not live up to their expectations, at least in the premiere episode.
Many critics of the show said that amidst the adventure and thrill, the show is marked with sleek humor and wit. "Top Gear USA" disappointingly missed this element. Despite the presence of three anchors, who are veterans in the field of motoring, the show could not make a mark. The three presenters, namely, Tanner Foust, a professional racing driver; Adam Ferrara, an actor and comedian andRutledge Wood, an automotive and racing analyst, failed to build the chemistry or the bonding that is required for a successful show. Each of them were more keen on gaining more footage than making the show interesting. It was also noticed that the show was badly scripted with very dry humor, although most of them were by comedian Adam Ferrara.
"Top Gear USA" has been largely influenced by "Top Gear UK ", considering the visual effects and the set up. However, its set up at the American NTSC in HD, gave it a very unrealistic look at times. Evey episode of this show is supposed to invite a new celebrity guest every week, who would be interviewed by the anchors. Yesterday, it was Buzz Aldrin. Many people expected this segment to be more exciting as it would reveal the car preferences and taste of that celebrity. But even the first interview of the show was too short and mal-informative.
Filed under:
Lifestyle
,
Media
,
News and Gossips
,
TV Previews and Reviews
,
TV Show Synopsis
,
Television
,
World
Tags:
"Top Gear UK"
,
"Top Gear USA"
,
Adam Ferrara
,
Buzz aldrin
,
California
,
History Channel
,
Irvine
,
Rutledge Wood
,
Tanner Foust
,
United States