Kokila Meets Her Match On SAB TVs Papod Pol
By SAMPURN
Wednesday, August 11, 2010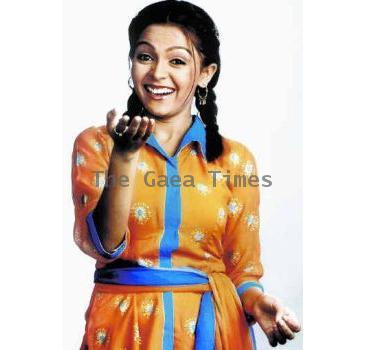 August 11, 2010 (Sampurn Wire): Kokila is in search of her handsome Mr. Right in SAB TV's recently launched show 'Papad Pol Shabuddin Rathod Ki Rangeen Duniya'. Vinaychand a.k.a Swapnil Joshi loves Kokila a.k.a Ami Trivedi madly but his not so good looks do not impress her.
Kokila dreams to have a life partner, who is very handsome, charming and one with an attitude of a Bollywood hero. But destiny keeps bringing Vinaychand in front of her always, who does not meet her expectations at all.
Kokila's neighbor Zorawar Singh finds a match for her in Vikram, played by Shresth Kumar. The guy is NRI based in London and Kokila gets excited as well as nervous before him. But Kokila gets upset when Vikram does not turn up to meet her. The heartbroken Kokila then realizes her bad behavior with Vinaychand and his family, whom she kept waiting for a long time when they came to meet her in Parnala.
The girl asks for an apology to Kantakaki for this behavior. Again, Kunjubala convinces her son Vikram and he agrees to go for an engagement with Kokila.
Now, will Kokila marry Vikram or will she realize the love of Vinaychand? To get the answers of all these queries keep watching 'Papod Pol' on SAB TV from Monday to Thursday at 8 pm.
–Sampurn Wire