"Sharktopus" Airs On SyFy
By Naiwrita Sinha, Gaea News Network
Sunday, September 26, 2010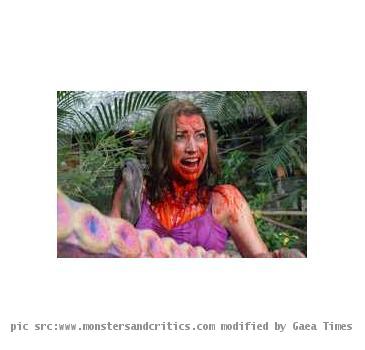 more images
LOS ANGELES (GaeaTimes.com)- "Sharktopus," directed by Declan O' Brien premiered on Saturday, September 25 on SyFy. The movie is a science fiction based on a man named Dr. Sands, played by Eric Roberts who creates a creature "Sharktopus" which is half shark and half octopus. The creature designed for the navy goes on a killing spree after the creator loses control over it.
The creature on his rampage swallows and attacks many bikini-clad girls and males which turns out to be some of the highlights the TV movie has to offer. The viewers were not left disappointed as the creature cum monster was seen swallowing few hot babes which made the film rather interesting. The character of Dr. Sands in the film is played by Eric Roberts whose portrayal of the role was quite convincing. Many viewers felt he did a good job. The "Sharktopus" has the head of a shark and the body of that of an octopus and it was surely successful in keeping the audiences glued to the television screens.
There were few good scenes in the movie which the people enjoyed. In a scene an attractive couple do a bungee jumping over the water, the creature "Sharktopus" comes out and swallows the girl with as much ease as if she was a potato chip, with a few curves. In another scene, the creature pulls a pretty looking girl into the water by her ankle. So with blood, babes and of course "Sharktopus," the movie appeared to be relaxing, nothing as such was scary in there, and perhaps delightful to the monster movie fans.