Mary Occhino: SyFy's Own Psychic
By Tias, Gaea News Network
Friday, July 16, 2010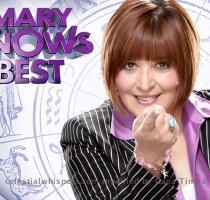 more images
LOS ANGELES (GaeaTimes.com)- The latest offering from the SyFy network is a reality series that follows the life of the psychic Mary Occhino and her family. In the show,the protagonist is shown to balance her life as a mother, a psychic and a radio host. The show premiered on July 15 in the reality block of SyFy adding to the current 'Fact or Faked: Paranormal Files' series.
The show focuses not only on the psychic abilities of Mary Occhino but also her family who seemed to have inherited some of her powers. In the first episode she is seen shopping with her daughter Jackie. She stops random strangers and talks about their life. Her daughter complains that she uses her powers too much and feels more irritated when Mary Occhino tries to set her up with a good looking man. The set up, however, does not go as planned. The daughter denies inheriting any of the psychic powers of her mother and is an aspiring model herself with a degree in business. The mother and daughter are also seen arguing about cooking for a family get together in the first episode of "Mary Knows Best".
Mary Occhino's son Chris is seen preparing the presentation after the release of his two off-Broadway productions. Though intelligent he is seen to have inherited some of the psychic powers of his mother. He also shares a bond with his son Taylor and the father-son duo is also seen out shopping and arguing about the sense of hygiene of Taylor. In spite of the show pulling in a reasonable audience in its first episode, some TV experts argue that it lessens the essence of the SyFy network with its real and unscripted family appeal.