"Caprica" On SyFy
By Madhusmita, Gaea News Network
Wednesday, October 6, 2010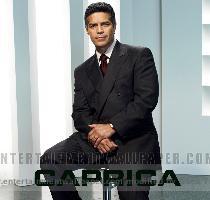 more images
LOS ANGELES (GaeaTimes.com)- The much anticipated "Caprica" episode 10 was aired on SyFy last night and it gave the audience ample entertainment to chew on till the next week. The audience enjoyed the show as in this week, the cliffhangers were solved and also the audience was gifted with more surprises. Last night's episode was subtitled as "Unvanquished" and it solved many questions of the audience which were in their mind after the last episode "End in the Line".
"Caprica" episode 10 saw that the Graystone industries were in the hands of Tomas Vergis and Agent Durham. Amanda Graystone's fate is still unknown to the audience. However, it makes the audience remember that in the last episode Amanda Graystone was seen trying to commit suicide after her daughter's death. Sam and Joseph meet Graystone at his house and they talk about their terms in the deal. The whole issue is shows clearly that Graystone is in dire need of a job. On the other hand Daniel makes a deal with Guatrau. However, Graystone emails video message to Amanda not knowing if she is alive or dead.
"Caprica" is set in the universe of re-imagined Battlestar Galactica. Last night's show, however, showed that Amanda is still alive and she sits to reply Graystone's mail. She fails to send the email as she is interrupted by her roommate Sister Clarice. Vergis is in full command of Graystone's company, however, Cyrus, who is in the company works as a spy to her former boss and he says that the original copy of MCP is destroyed. With all twists and turns last night's "Caprica" managed to keep the audience riveted to their seats and now the viewers are waiting for "Retribution" to see what happens in their favorite characters' lives.