'Witchville' Shown On SyFy
By Arnab Ghosh, Gaea News Network
Sunday, May 23, 2010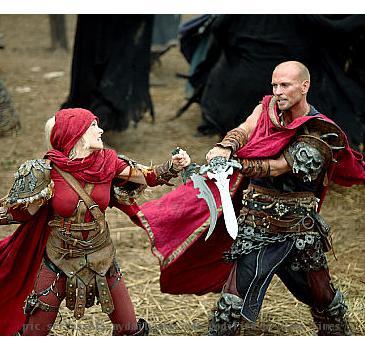 more images
SAN FRANCISCO (GaeaTimes.com)- SyFy Network shows TV movies for its viewers from time to time and yesterday it aired a new film named 'Witchville'. The movie, as is clear from its name is based on witchcraft in a medieval feudal time period. The plot of the film is quite simple. The protagonist Price Malachy inherits his father's kingdom after his demise and it takes him some time before he can grasp something is wrong with it. The film has some eminent actors and actresses like Ed Speleers, Luke Goss and Sarah Douglas. They all have experience of working in sci-fi and supernatural films and it helps them in getting in to the skin of their respective characters. After inheriting the kingdom, the hero finds that a group of witches led by the malicious Red Queen is wrecking havoc with the residents. Among the characters Ed Speleers scorch the screen with his gorgeous looks.
Despite all the elements in place and a gripping plot, 'Witchville' does not impress as a cult witchcraft movie. The fight scenes are lackluster and the overall impact is not mind blowing. The film does not offer anything new at the end. Simon Thorp as the professional witch hunter is interesting and he has a commendable screen presence. He interacts with Price Malachy and the latter understands the gravity of the situation.
The Red Queen is enigmatic and dominates a large part of the film with her power and spells. Her daughter also plays a pivotal role in the conflict. The war scenes are shot in dark mostly to keep the costs down. Overall, 'Witchville' makes up for an evening watch.