Bill Nye Collapses
By Madhusmita, Gaea News Network
Thursday, November 18, 2010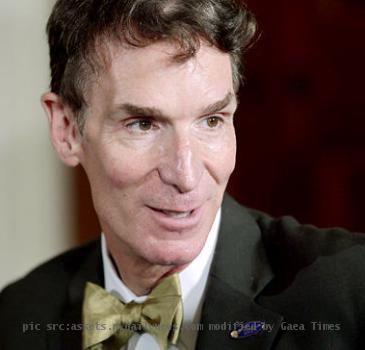 more images
LOS ANGELES (GaeaTimes.com)- "Bill Nye the Science Guy" host Bill Nye shocked the audience when he collapsed on stage on Tuesday while giving an important speech at the University of Southern California. The 54 year old was giving his speech on science education Tuesday night and suddenly he stumbled on his laptop. Bill Nye's representative Glenn Schwartz said that the American science educator pushed himself too much on work and hence he collapsed on stage.
Glenn Schwartz told a reputed media source that Bill Nye is better now as he had a good rest at night. The eyewitnesses told a reputed media source that Bill Nye fainted several times on the stage while giving his speech. The media outlets reported that Bill Nye collapsed in the middle of a sentence while giving his speech but he quickly recovered himself and finished his lecture. The comedian again fainted while walking towards the podium but the sources claim that he again got back to his senses and continued with his lecture. Tristan Camacho, a senior of University of Southern California said that after becoming conscious he asked the audience how long he was "out for" and then he told everyone that he experienced a similar incident in the morning.
Glenn Schwartz said that Bill Nye pushed himself too hard after a long tiring day where he had an early "satellite media tour" and then he had to come for the late night speech. If sources are to be believed, public safety officials of University of Southern California and paramedics immediately appeared on the scene but it is still unknown if he was treated afterwards. Capt. David Carlisle of the USC Department of Public Safety said that Bill Nye did not go to hospital after his lecture and he left for home on his own.