Iftaar Party Hosted For Chhote Ustaads
By SAMPURN
Tuesday, August 31, 2010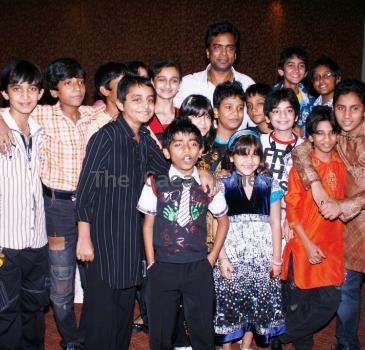 August 31, 2010 (Sampurn Wire}: Saibaba Telefilms Pvt Ltd, hosted an Iftaar Party for the Pakistani children from 'Amul Chhote Ustaad - Do Deshon Ki Ek Awaaz' that is shown on Star Plus. Gajendrra Siingh, the MD and Chariman for Saibaba Telefilms along with playback singer Sonu Niigaam along with the Indian contestants came together to convey their greetings.
The occasion held implication for the Pakistani kids, as they celebrated it with their neighbors from across the border. The contestants were happy and said that they felt at home thanks to this effort by the Saibaba Telefilms. This time 'Amul Chhote Ustaad - Do Deshon Ki Ek Awaaz' includes kids from India and Pakistan, battling it out for the ultimate prize.
Gajendrra Siingh, MD and Chariman, Saibaba Telefilms said that the show's format is that of music with zero boundaries and that's what they wanted everyone to feel. He further added that Pakistan has always been called a delightful hub of great endowment for the industry of entertainment and the show's tie up with Rahat Fateh Ali Khan in scouting for young talent, is just a step in that whole process and philosophy.
Saibaba Telefilms are the present content partners for channels like ETV Network, Star Jalsha, Mahuaa TV, Star Plus, Sun TV Network and Doordarshan National.
–Sampurn Wire