Daljit, Kamya rubbish confession tales on Ghar ghar mein
By SAMPURN
Tuesday, April 13, 2010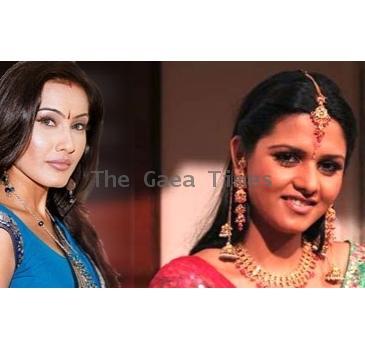 April 13, 2010 (Sampurn Wire):The media industry is such where facts are often concocted to either sell a story or boost TRPs of a flagging show. That's why it's paramount that as a responsible media personnel, you verify facts before jumping to any conclusion.
Zee TV's Ghar ghar mein is a relatively unknown commodity but the events that occurred in the last few shoots certainly make for an interesting viewing for an otherwise sagging show. Well, that is only if one ought to believe the tales mentioned in the press note.
According to this note, some of the famous TV couples confessed to some hidden secrets Manav Gohil allegedly walked out of the show after host Manish Paul asked his wife Shweta whether she's ever caught him red-handed with another woman.
When contacted, Gohil clears the air. He says, "This was actually a prank played by me on the hosts. Manish is a good friend and he took it sportingly."
Kamya Punjabi expressed complete shock over the talk that she was seeing another man after separating from her husband Bunty Negi. By God's grace, Punjabi and Negi have united again few years later and now have a child too.
When contacted, Punjabi fumed, "How can they even do something like this to promote a poor show? They should be thankful that I came to this show, which otherwise isn't watched by anyone. Come on, I'm a mother and I've got a family. You can't write such crap. After giving so many years to this channel, how can they do this me. Guess, it's best to simply ignore such rubbish"
Meanwhile, Daljit Kaur merely laughed off at the tale of her husband Shaleen confessing to being in a state of severe depression after Nach Baliye 4 because he failed to find any work.
Citing the right reason for Shaleen's absence, Daljit enunciates, "At no stage during the show did Shaleen or I mention the word depression. I guess this is just a frivolous means to promote their show. Shaleen wasn't seen for a while as he away in Australia to manage his family business. He had promised his dad that once he gets free from TV, he'll look after the family business. For one year, Shaleen honoured his family commitment."
As per the note, Sharad Kelkar and Kirti Gaikwad's parents were against their marriage. The duo claimed that their only family member other than the two is their pet dog Bacardi.
Well, if it's a dog, we're not going there. So, we didn't even bother to call Sharad or Kirti.
Anyways, irrespective of any confessions, fans wouldn't mind seeing these stars on Ghar ghar mein. So, keep watching the show from Monday to Friday at 7.00 pm.
-Mayur Lookhar/Sampurn Wire