Time for reunion in Kis Desh…
By SAMPURN
Tuesday, September 22, 2009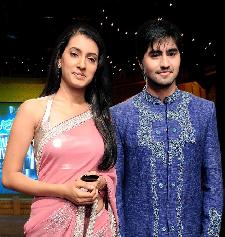 Kis Desh Mein Hai Meraa Dil, the love saga of Heer (Additi Gupta) and Prem (Harshad Chopra) which was at rest since many episodes in the past will now be at its gearing speed after the break up between Prem and Geet (Simran Khanna).
Our Khabroo from the production informs, "Heer (Additi Gupta) will be returning back to Prem (Harshad Chopra) with their daughter Chahat (Muskaan Uppal). Juneja family members will be happy for them, except Prem's step mother Gayatri (Shama Deshpande)."
As Heer and Prem has come together again after a long time will now make the story more romantic. "Heer has entered into Juneja family by her own verdict and is very much happy with the decision. But because of Gayatri (Prem's step mother), Heer is not feeling comfortable because of the indifferent behaviour of the mother," source explained.
So, at last Heer got the final answer for the question, Kis Desh Mein Hai Meraa Dil?
-Tejashree Bhopatkar/ Sampurn Media