Yashraj Kapil the winner of Sitaron Ko Choona Hai
By SAMPURN
Saturday, June 27, 2009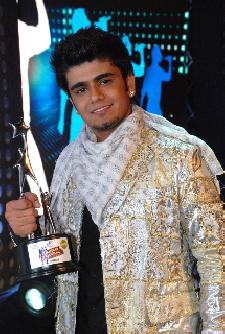 After 3 months of rigid daily regimen and extensive training by 3 veteran judges, Sitaroon Ko Choona Hai has got its winner and its none other than Yashraj Kapil. This confident young singer from Delhi has left all his fellow contestants behind to attain newer heights in life. Apart from this, Yashraj will also get a chance to cut a music album by on Times Music.
"It's the best phase of my life so far. "I always dreamt of winning the show and always worked towards reaching here. I'm so grateful to my audience who voted for me and made my dream come true. Most of all, I would like to thank REAL for giving aspiring singers like me a platform to prove themselves and would also like to thank the faculty who was there to correct and guide us all at every step. They have made me!" says Yashraj.
The entire atmosphere turned joyous and the faculty which comprises of youth icon Raghu Ram, singer Neha Bhasin and music maestro Prasant Samadhar couldn't help but be proud of Yashraj.
"Yashraj is not only a wonderful singer but is also a great performer! He has tremendous potential and I wish him all the luck for a fantastic music career ahead. I am simply proud of him", said the academy head Raghu Ram.
The show had all the 12 contestants perform together for the last time, which made everyone give their best shot as for the ex contestants, the competition was over and they were free from any kind of tension. The show was going at a good speed till then, but the nitro boosters were added when Palash Sen's famous band EUPHORIA made an entry. They not only had everyone grooving to their popular numbers, but also eased out the tension that prevailed before the announcement of the result. On an all, the event had everything right from drama, to emotions, entertainment, fun and most importantly music. - SAMPURN