'Sanctum' Movie Gets Mediocre Review
By Arnab Ghosh, Gaea News Network
Friday, February 4, 2011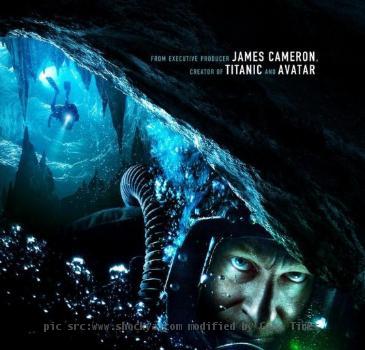 more images
LOS ANGELES (GaeaTimes.com)- 'Sanctum' the much awaited underwater action drama has hit the theaters and despite being produced by legendary James Cameron of Avatar fame, the movie fails to make the mark. The plot of the movie is based on a group of underwater cave divers who embarks on a risky and treacherous mission to unravel the secrets of a remote and less known underwater cave system of the world. They are forced deep underwater by a tropical storm and thereafter begins a tale of surviving deadly terrain, stress and raging waves. The director Alister Grierson tries to make an adventure drama but the emotion quotient in the acting is lacking and it is apparent from the beginning. The movie suffers owing to relying mostly on stunts and underwater actions.
The team comprises of actor Rhys Wakefield, Richard Roxburgh, Ioan Gruffudd and Alice Parkinson. The timing of the group is wrong and they get trapped underwater after a furious storm hits the region. Since the known exit from the underwater cave gets blocked the divers have no other option than exploring the caverns for a way out to the outer world. The movie 'Sanctum' does have its redeeming points though. The involvement of James Cameron means the camera work gets his exclusive 3D touch which is a visual treat. This is not post conversion 3D and the technology is the best one can get to watch.
The movie 'Sanctum' is adapted from the real world experience of Andrew Wight. It has excellent camera work which makes the viewers engrossed but the dialogues could be much better. The tense moments do make the viewers cringe in their seats.