Eva Longoria Parker Adornes a Ham Dress at MTV European Music Awards 2010
By Turjo, Gaea News Network
Wednesday, November 10, 2010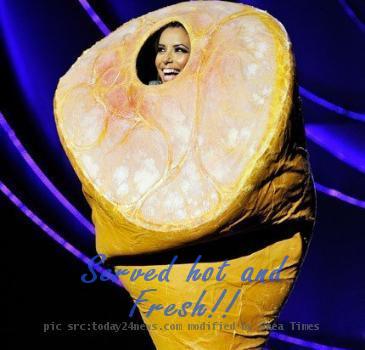 more images
MADRID (GaeaTimes.com) — Well, Hams can't be served much more hotter than this! Last Sunday night, Eva Longoria Parker appeared onstage at the MTV European Music Awards 2010, in Madrid, dressed like a piece of ham. It might be an attempt of her to poke fun at Lady Gaga's world-famous meat dress, but it surely gave the viewers one hell of a laughter that night.
Billed as her Spanish ham dress, the costume looked like a leg of cured ham, with only Longoria's head peeking out over the top. Eva made some cheeky comments by saying that Lady Gaga couldn't be onstage that night because she had misplaced her meat dress backstage. She even commented that -
Who knew Spanish ham was one of my colors?
The flamboyant pop singer, Lady Gaga, known for outrageous outfits, made headlines around the world in September when she wore a meat dress, made entirely of raw steak, to the MTV music awards in the U.S.
She was on tour Sunday and accepted her awards via videotape on last Sunday night.
The ham frock was one of a string of costumes that Longoria wore in her role as ceremony host. They included a magenta tuxedo jacket, a shoulderless mini dress, a layered satin gown and a black bustier and mini-shorts.