Printable Pumpkin Carving Patterns Facilitate Carving
By Naiwrita Sinha, Gaea News Network
Monday, October 25, 2010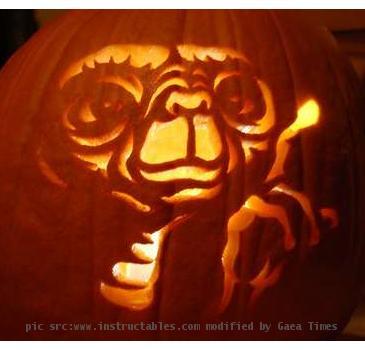 more images
LOS ANGELES (Gaea Times.com) Pumpkin carving, unknown to many was initially celebrated by farmers in order to ward off evil spirits and demons during harvest time. Back in the ancient times the pumpkin carvers used to carve the pumpkins with only a knife as their tool. Jack O Lantern as it is traditionally known has been a part and parcel of Halloween for centuries. The growth of technology along with the advent of commercialization has removed much of the difficulties faced in the process of pumpkin carvings. The availability of printable pumpkin carving patterns on the web has enabled a variety of people to carve their own pumpkins.
The printable pumpkin carving patterns are available for download in a pdf format. The pumpkin carving patterns are available in both paid and unpaid form. Most of the sites are offering a mix with the best patterns being reserved for the paid customers. The sites also provide instructions on the proper use of pumpkin patterns and carving which enable even a novice to carve a spectacular pattern. A lot of imagination has been used in designing the pumpkin patterns this year. Apart from the traditional images of ghouls, witches and demons, celebrity and politicians templates are in great demand this year.
Lady Gaga, Justin Bieber and Michael Jackson are among the celebrities whose faces has captured the imagination of pumpkin carving pattern makers this year. There are many simple patterns available in printable format and include spiders, dancing skeletons, witches and many more. A would be pumpkin carver only needs to follow the printed pattern while keeping the carving instructions in mind.