"Weeds" Season 6 Episode 13 Made A Final Impact
By Reema, Gaea News Network
Tuesday, November 16, 2010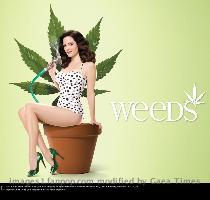 more images
LOS ANGELES (GaeaTimes.com)- "Weeds" was aired to bid an adieu to its audiences yesterday. However, it was just the conclusion of Season six, with all its thirteen scheduled episodes. The sources from Showtime has promised the audiences to bring the show back with its seventh season in 2011. "Weeds" Season 6 Episode 13, entitled as "Theoretical Love Is Not Dead", has been regarded as one of best episodes of the entire series so far, and the best for this season.
"Weeds" Season 6 Episode 13 was a good blend of emotions, that oscillated between melodrama, apprehensions, love and hope. As we all know, the Botwins were all set to head cross the Canadian border, after being accused with the murder of Pilar in season 5. With the pseudonym of the Newmans, the Botwins headed towards the airport in search of a new life and new identity. However, this led to a lot of psychological conflict, especially for Nancy Botwin (Parker), who was unable to figure out what is in store for her next, as she desperately tried to put herself in the shoes of Esteban. Her expression was convincing enough as she tried to portray her difficulty in making the choices. Andy, who has always been an emotionally strong character, trying to figure out problems with complete poise and disposition, tried to put the Botwins together this time. Silas on the other hand was still pondering about what he would do with his future, hanging on to his "Sperm Daddy". Andy was trying hard to cool down Shane and Warren, when Silas decided to stay back with Lars.
"Weeds" Season 6 Episode 13 imparted a good amount of questions and curiosity regarding the future of the characters. This unspecified ending, is expected to make the audiences glue to the upcoming season 7 even more.
Filed under:
Hollywood
,
Media
,
News and Gossips
,
TV Previews and Reviews
,
TV Show Synopsis
,
Television
,
World
Tags:
"Weeds" Season 6 Episode 13
,
Andy
,
Botwins
,
California
,
lars
,
Los Angeles
,
Showtime
,
Theoretical Love Is Not Dead
,
United States