The Last Airbender: Average Fare
By Arnab Ghosh, Gaea News Network
Thursday, July 1, 2010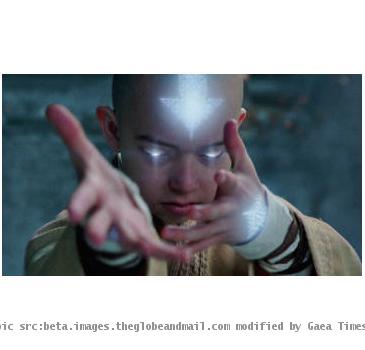 more images
LOS ANGELES (GaeaTimes.com)- M Night Shyamalan is one of the directors who burst into the Hollywood with promising and trendsetting movies like 'Sixth Sense' and 'Signs' several years back. However, after 200o he has given us a number of insipid and mediocre movies that has not added much to his credential as a director. 'The Last Airbender' is the latest movie made by the director that has hit the theaters in the USA. It is a big budget film and it is evident that the director wants to set up a franchisee on the scale of the widely successful Twilight series with this film. However, the reviews towards the movie are not particularly encouraging. The director adapted the story from the popular TV series of Nickelodeon's which his own daughter is very fond of. This martial art flick with lots of supernatural power and combat among avatars may appeal to those who have no interest in nocturnal creatures and vampires, which are the central them in 'Eclipse', another big budget flick released this week.
The protagonist in M. Night Shyamalan's latest flick 'The Last Airbender' is a 12 year old teen named Aang. The avatars shown in this film are drastically different from their namesakes shown in James Cameron's Avatar. The acting and special effects in this flick are seriously mind blowing but that does not necessarily make it a great movie.
The director falters in trying to make it a suitable dish for views of all ages. It would have been better if he had made 'The Last Airbender' aimed exclusively at the kids.