Rakhi Sawant Wants To Marry
By SAMPURN
Saturday, June 26, 2010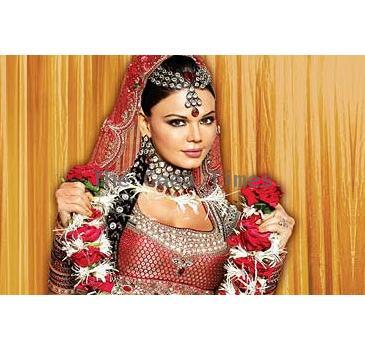 June 26, 2010 (Sampurn Wire):"Main kunwara kab tak baithu, meri shaadi karvao ,meri shaadi karvao". So went the popular song in the film Jis Des Mein Ganga Rehta Hai, where Govinda is requesting people to find a bride for him. Well, the blabbering Rakhi Sawant is perhaps singing the same song as she is said to be tired of her single status.
News has it that the drama queen is keen to settle down in life and wants to go the swayamvar way again.
Says a source, "Rakhi has approached Imagine TV to find a groom for her again. Another swayamvar is simply not possible, but Rakhi herself is said to be pitching a new concept. She wants to call it 'Rakhi Ki Shaadi'. There's no way that the channel will grant her request. Doing so would be making a mockery of the swayamvar."
Rakhi Sawant remained unavailable for comment.
Elesh Parjunwala and his despondent colleagues from 'Rakhi Ka Swayamvar' are still reeling from the trauma that Rakhi gave them. Well, any man would do well to think about the plight of these men before harboring any thoughts of wooing Rakhi.
–Mayur Lookhar /Sampurn Wire