Sara Khan Paired Opposite Ritesh Deshmukh?
By SAMPURN
Tuesday, June 22, 2010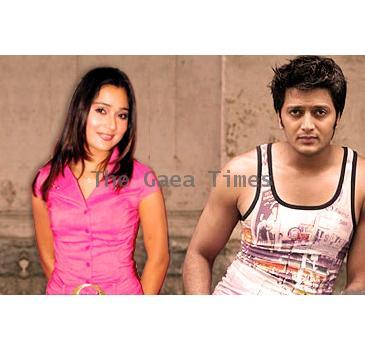 June 22, 2010 (Sampurn Wire):It's now well known that Sara Khan will be leaving 'Bidaai' for the greener pastures of Bollywood. It is believed that Sara Khan will feature in a film that is being produced by her boyfriend. However, we hear that there is a slight twist in her tale.
Apparently, we learnt that while Sara is all set to step into Bollywood, it's not going to be in her boyfriend's film. Instead, she's said to be featuring opposite the popular Bollywood actor, Riteish Deshkmukh
A source says, "Contrary to the popular perception, Sara is not doing Ali Merchant's film. That project is said to have been shelved. Instead, she is doing another film. I do not know its name, but it's confirmed that Sara will be paired opposite Ritesh Deshmukh in this film."
Adding further, the source says, "Riteish hasn't succeeded in the films where he's played the sole lead. That's why no popular actress wants to be paired opposite him in such a film. For Sara, it will be a good break, so she's accepted it."
Both Sara Khan and Ali Merchant remained unavailable for comment.
Ritesh Deshmukh is currently shooting for Faltu which stars Amitabh Bachchan and Salman Khan. He's got two more films in the pipeline too – Aladin 2 and Mahim Fatak Ke Baju Mein. The actor plays the sole lead in both these films. Sara has probably signed up for the latter.
–Mayur Lookhar/Sampurn Wire