Pamela Anderson In "Bigg Boss 4″ Bids Adieu
By Reema, Gaea News Network
Saturday, November 20, 2010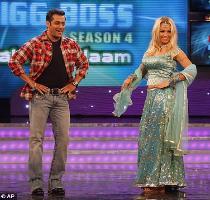 more images
MUMBAI, INDIA (GaeaTimes.com)- The "Baywatch" siren Pamela Anderson bid her last goodbye to the 'Bigg Boss' house yesterday. The sarong clad actress had actually won everyones heart in her three day stay at the house. After she left the house, she told Salman Khan that it was wonderful experience in the house and everyone was extremely warm and caring towards her.
No one in the house knew that she was about to leave yesterday. It came up as a shock to most of the people, when they saw her standing with Salman Khan outside the house. However, it was Ashmit Patel and Hrishant Goswami, who were too disappointed with her last exit. Ashmit Patel was almost in tears when he came to see his favorite actress standing outside with the Bollywood superstar. He also insisted Pamela Anderson to stay in touch with him. Pamela Anderson on the other hand, said that she would like to take everyone to Hollywood one day. Hrishant Goswami, who has been his fan since his childhood, confessed that he used to save his meager pocket money to buy the magazines that featured Pamela Anderson, though it used to cost him a fortune. The actress said that she loved the food, the people and the warmth of 'Bigg Boss' house. She enjoyed dancing on the cult Madhuri Dixit number, "Dhak Dhak Karne Laga", and complemented Shweta Tiwari for choreographing the dance so beautifully. Shweta Tiwari also reciprocated her complement by saying that Pamela Anderson turned her ordinary choreography into an oomphy one, with her graceful moves.
However, it was only Sara Khan and Veena Malik who were happy with the siren leaving the 'Bigg Boss' house, as now they are sure that they would get their "Good Friend", Ashmit Patel back once again. Today, Pamela Anderson would sport a lehenga to groove on "Munni Badnam Huyi" with Salman Khan.
Filed under:
Celebrity Facts
,
Entertainment
,
News and Gossips
,
TV Show Synopsis
,
Television
Tags:
Ashmit Patel
,
Bigg Boss 4
,
Hrishant Goswami
,
India
,
Maharashtra
,
Mumbai
,
Pamela Anderson
,
Salman Khan