Music Album Releases On Buddha Preaching With Voice Of Sonu, Alka, Shankar
By SAMPURN
Friday, May 28, 2010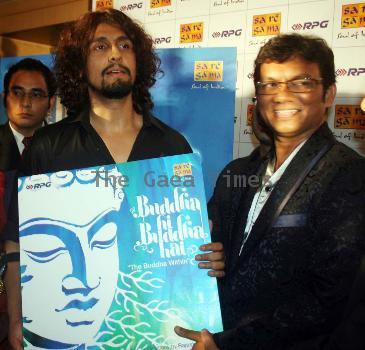 May 28, 2010 (Sampurn Wire): Buddha's preaching is now interpreted in the form of a music album by Rajesh Dabre and the album is titled 'Buddha Hi Buddha Hai'. It is released by the music label SaRe GaMa.
Rajesh Dabre has worked on the lyrics and music of this album which records the thoughts of Gautam Buddha. The album features songs sung by Sonu Nigam, Alka Yagnik, Shankar Mahadevan, Hariharan, and Suresh Wadkar.
Dhabre, who has no formal training in music, has read through various books and ancient texts on Buddha and Buddhism. He confessed that the songs took one week to five months to get completed. Dhabre felt that music is the ideal medium to spread Buddha's thoughts. Dhabre felt so because like music, Buddhism also surpasses all boundaries and division in the human world.
As per Dhabre's accounts, the music of the album varies; they have experimented with different types of music. The album includes a blend of music from electronic beats to chants; the music is a fusion of Indian and Western melodies.
Even though the music has been experimented with, Dhabre insists that he did not compromise with the content. Some of the most renowned Buddha thoughts have been incorporated in the album. 'Fire cannot extinguish fire', 'Craving leads to disasters', 'Every cause has an effect, every effect has a cause' are some of the famous Buddhist quotes which have been weaved into simple Hindi lyrics by Dhabre.
Prior to this, Dhabre has worked on some one-act plays. Dhabre took almost around four years to complete work on this album.
-Sampurn Wire