To Play The Indian National Song In My Own Way Was A Bit Dangerous For Me, Because It Could Have Become A Kiss Of Death, Had It Not Been Properly Executed In The Right Spirit- Wayne Sharpe
By SAMPURN
Friday, June 18, 2010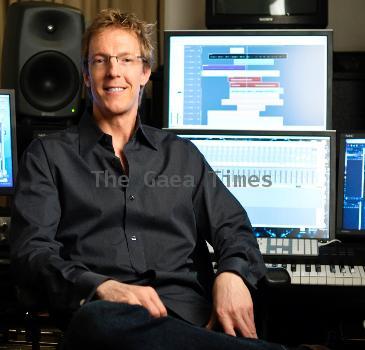 June 18, 2010 (Sampurn Wire): Hours before he left India and flew back to New York, Internationally renowned WAYNE SHARPE, who has composed for many of Prakash Jha's films like Gangajal, Apaharan and Raajneeti tells JYOTHI VENKATESH, in his suite at Novotel, that he will be back soon to compose for Sanjay Pooran Singh Chauhan's new film based on science fiction
How did you meet Prakash Jha?
It was when Gopi Sait a mutual friend who introduced me to Prakash Jha in New York and a creative friendship was struck between us.
How did you bag the job of composing music for Prakash Jha's Gangajal?
Prakash Jha came to my studio on my invitation and listened to my music, he could relate to it and immediately he asked me to collaborate with him on the music of his film Gangaajal. From then there has been no looking back as far as my creative association with Jha is concerned. I have been weaving Indian as well as Arabic music on my own. When Prakash Jha mentioned about some of the scenes of Gangaajal, I promptly did a demo for him and he liked it immensely. He asked me to come down to India. It was for the recording of his film Gangaajal that I visited India for the first time in my life.
You have composed music for every film of Prakash Jha after Gangajal!
Yes. I had done the background music for Prakash Jha's film Apaharan etc earlier but it is the very first time that I had composed one song for his film Raajneeti, which had two versions. The version with Shankar Mahadevan was retained in the film. While Sonu Nigam sang one version, Shankar Mahadevan sang the other. The lyrics were written by Gulzar. What I adore about Prakash Jha is the fact that he gives a lot of importance to music of his films, especially the background score.
How tough was the task of composing the song considering the fact you do not know Hindi?
Composing the song with two versions as well as the background score for Raajneeti was indeed a tough task for me as a music composer. Raajneeti was an epic film which had around 6000 actors in it and abounded with politically charged scenes. Since it had a very complex and intricate story, it needed a large and intense background score. We needed a theme based score to blend with the narrative of Raajneeti
How was it working with a filmmaker like Prakash Jha?
Prakash Jha is a very good storyteller. He spent two weeks at my studios in New York after completing the shooting of the bigger scenes for the film earlier. We decided to incorporate the flavor and the spirit of the national song Vande Mataram into the score. I first did a promo of the theme music and it set the tone of the film, which is politically charged. As an outsider, I should say that the hint of Vande Mataram in the background score gave the overall music a certain kind of depth
Tell me about your experience of working with Gulzar!
Gulzar is not just a lyricist but a poet. Gulzar, Prakash Jha, and I wanted a patriotic song, which was not only national but also anthemic, and the result was Dhan Dhan Dharti. I should also admit that to play the Indian national song in my own way was a bit dangerous for me. It could have become a kiss of death, if it was not properly executed in the right spirit.
Can you elucidate?
I had to add a few sections to the song to fine tune it while working with Gulzar's lyrics. I sat with arranger Yogesh Pradhan and Gulzar and all three of us adapted the lyrics to the melody and structure to come up with the song Dhan Dhan Dharti. If you ask me how I understood what Gulzar had set out to write lyrically, I admit that because I do not fully understand Hindi, I had the English translation of those lyrics, and I was able to incorporate his ideas into the song. I was also able to listen to the Hindi vocals as a melody almost like an instrument and convey the emotion.
What is the difference between composing the background music for a film abroad and an Indian film?
In the West, the background score is more subtle and subdued unlike in India. Ideally I am of the opinion that you should be able to walk away from the cinema house humming even the background score. Abroad, we use 25 to 30 pieces for the background whereas in India you use 70 to 100 pieces as background snippets in a film and I feel that is the biggest difference between composing the background score for a Western film and a Bollywood film.
Your style of composition in Dhan Dhan Dharti reminds one of Rahman's initial melodious scores!
I am elated because I am a huge fan of A.R. Rahman. I have great respect for his music ever since I heard his score for the first time when he composed for Taal.
Why are you very selective when it comes to accepting offers from Bollywood filmmakers?
Yes. It is true that I am very selective. It is only because I want to make sure that what I choose is right for me as a music composer. I do not want to accept an offer to compose music just because some one is ready to pay me. It should creatively gel with my style. Besides the films like Gangaajal,Apaharan and Raajneeti, I had also scored the background music for Sanjay Puran Singh Chauhan's Lahore and am now looking forward eagerly to compose for his next film which will be based on science fiction.
– Jyothi Venkatesh /Sampurn Wire