Rakhi is funny, but Sambhavna is below the belt-Kashmera
By SAMPURN
Monday, August 31, 2009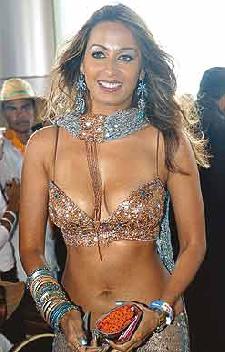 Recently Kashmera Shah and Sambhavna Seth teamed up against Baba Ramdev on a chat show. The whole debated was about the statement given by Baba Ramdev that youngster should not idolize actress, kyunki yeh badi actress nahi hai sadi actress.
Kashmera and Sambhavna, though had the same stand in the show but Kash does not approve the way Sambhavna conveyed her points. "While proving your point one should also see who you are talking to. She was literally degrading Baba Ramdev. You can rip apart Rakhi Sawant, but not someone like Baba Ramdev," she expresses her disapproval. "He is a dignified personality whom the whole country follows and somewhere you should also keep the dignity of being a woman, when she said agar mein dance karungi toh apko bhi karna padega…what nonsense was she talking!" she adds further.
"I didn't know her before the show, and I don't want to know her now. It could have been an intelligent debate, but she degraded it. Had I know before that she is a desperate Rakhi Sawant wannabe I would have not gone. Rakhi is funny, but Sambhavna is too below the belt," she opines.
She believes that she share a very unusual relationship with Rakhi. "We don't like each other, but if we are together and somebody speaks against one of us, both of us would stand-up for each other," she briefs about her equation with Rakhi.
So now the reality battleground is set for Kashmera vs Rakhi vs Sambhavna.
-Deepa Mishra/ Sampurn Media