"Pirates Of The Caribbean 4″: Trailer Released
By Reema, Gaea News Network
Monday, February 7, 2011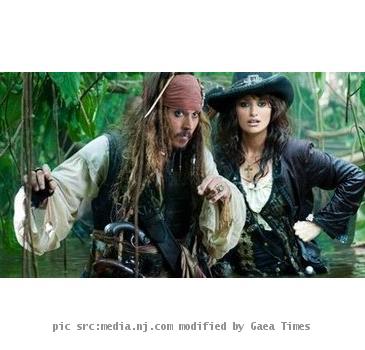 more images
ARLINGTON (GaeaTimes.com)- "Pirates Of The Caribbean 4″, is all set to hit the theaters this May 20. The people first came to know about this great news, while watching the Super Bowl yesterday. The movie unleashed its very first trailer, to delight the audiences with the first glimpse of yet another Johnny Depp flick.
"Pirates Of The Caribbean 4″, has been entitled as "Pirates Of The Caribbean: On Stranger Tides". Apart from Johnny Depp, the film also stars, Geoffrey Rush as Barbarossa, Penelore Cruz, Ian McShane as Black Beard, Judi Dench, Gemma Ward, Stephen Graham and Astrid Berges-Frisbey. After watching the trailer, people were all more excited to see, how the hot and beautiful Penelope Cruz gets into action to fight her enemies with swords. The trailer raised more excitement, when they saw, Jack Sparrow skillfully executing his typically crazy yet smart stunts. In the film, the legendary captain and Barbarossa, starts sailing in search of an elusive Fountain Of Youth, under the instructions of King George II. As the film proceeds, they discover that even Black beard and his daughter Penelope Cruz wants the same. A bit of romance blossoms in the air between Penelope Cruz and johnny Depp. Initially, they say that they knew each other from the past. However, later on people might perceive a gray shade from the actress, as she might seem to be using the captain for her own gains.
Johnny Depp is extremely excited about "Pirates Of The Caribbean 4″, as after ten years he would share the screen with Penelope Cruz. He said that it is a pleasure to work with her and completely adores her, for she is one of his best friends. He added that after "Blowing" together in their last flick "Blow", about ten years back, their chemistry will surely hit the headlines once again after this film, that will release on May 20.
Filed under:
Celebrity Facts
,
Celebrity Wisdom
,
Entertainment
,
Hollywood
,
News and Gossips
,
Previews and Reviews
Tags:
"Pirates Of The Caribbean: On Stranger Tides"
,
Arlington
,
Geoffrey rush
,
Johnny Depp
,
Penelope Cruz
,
Pirates of the caribbean 4
,
Super bowl
,
Texas
,
Trailer
,
United States