"Secretariat" Horse Creates Buzz
By Madhusmita, Gaea News Network
Sunday, October 10, 2010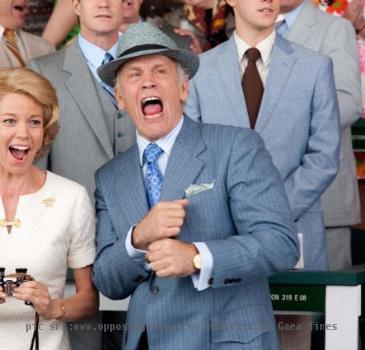 more images
LOS ANGELES (GaeaTimes.com)- "A Little Romance" actress Diane Lane has once again proved her acting prowess in the movie "Secretariat" which hit the theaters last Friday. The story of the movie is penned down by Mike Rich, who deserves credit for sketching all the characters so well. The Randale Wallace directed movie deals with the life of Penny Chenery, the owner of the of Fame racehorse Secretariat, that becomes the first horse in twenty five years to win the Triple Crown of Thoroughbred Racing. Actress Diane Lane has indeed managed to get into the skin of the character while playing the role of Penny Chenery, the housewife turned racehorse owner.
The movie "Secretariat" revolves round the life of Penny Chenery (played by Diane Lane), who gets exposed to the male dominated world after her parents pass away. The whole story of how Penny Chenery took over the financially troubled Meadow Stable from her father and then how she trained her horse to become the winner of the Triple Crown Season has won wide accolades. The twist of the story comes when she has to revolt against her family (husband, brother) to prove her point as she wants to keep her father's legacy going. Diane lane has once again proved her marvelous and compelling acting talent in the movie.
"Secretariat" portrays Diane Lane as a woman who dares to chase her dreams in the domain of men. While speaking about the movie, Diane Lane said that the movie is not about feminist "agenda" as she thinks that the life of Penny Chenery and her horse is more about "equality" agenda. The "Unfaithful" actress said that the movie is about an "ultimate" horse and an "ultimate" woman who always stood by her decisions.