Paranormal Activity 2 - Review and Highlights
By Jayita, Gaea News Network
Friday, October 22, 2010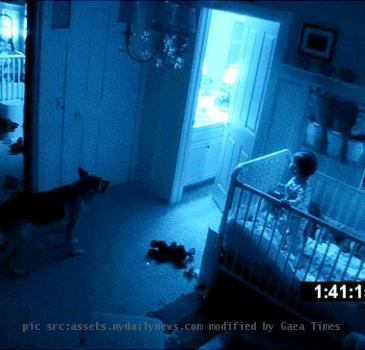 more images
LOS ANGELES (GaeaTimes.com) — Paranormal Activity 2 touches the silver screen tonight at midnight. But as per the early reviews, the sequel of Paranormal Activity is already getting huge responses from all around.
Paranormal Activity 2 enhances the awe-inspiring uncanny atmosphere that the first movie created and stirs the innermost fear within you.
A ghostly environment is created in the movie that shows a toddler in a half dark room, a night vision camera following his activities, while things are badly messed-up. This will surely compel you to cover your face with your hands. However, you cant resist yourself from watching the next scene through the gap of your fingers.
In the second Paranormal Activity parents Kristi (Sprague Grayden) and Dan (Brian Boland) are in a mood of celebration as they welcome their first born son Hunter at home.
Suddenly, odd things start happening around. Doors shut without wind, pots and pans drop without reason, and the couple's newborn baby wakes up screaming during the late night hours.
This activities alarms the housekeepers. They attempt to keep away the spirits but are soon deemed foolish. Their teenage daughter also experiences similar terrible and shuddery things.
In addition, they find things in a dismantled condition, though their valuables are not missing.
They try to find it out whether things have any link to Kristi's sister, the tormented lady of the first movie.
As the movie reaches to the end, the tension mounts. The last 30 minutes is the most exciting part of the movie that holds you tight to your seat.
So, is there any way out the family could trigger to save themselves from the evil power of the spirits? or the demon write their victory by destroying them all? To know more you must visit your nearest theater and feel the thrill of Paranormal Activity 2.
Dont forget to share your experience with us.