Sussanne Roshan Furious With The Press
By SAMPURN
Wednesday, June 2, 2010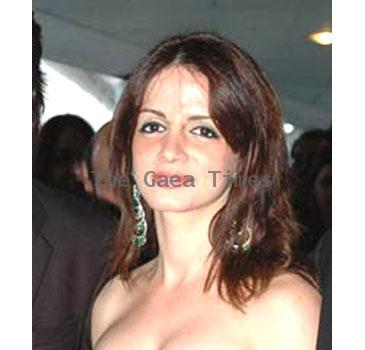 June 2, 2010 (Sampurn Wire): Sussanne Roshan is furious with the press for coming up with stories without verification.
There were reports of Sussanne, Hrithik Roshan's wife, opening her own interior designing store in Bandra, which would be inaugurated by Shah Rukh Khan. As per her own tweets, the store is all set to open in the month of October (approximately), and she has already come up with a name for it, which is yet to be revealed as she is not ready.
The reports, however, also included that Sussanne has decorated the house of her buddy Gauri Khan, the wife of King Khan. However Sussanne claimed these are reports to be false.
She vented out her feelings this morning on Twitter, by posting, "I can't understand the rubbish that the press keep writing..big article in DNA fully untrue..yes, I am opening my own store but I have.. not done the interiors of Gauri's house..All credit goes to her!! And I will not be asking my friends to do openings! Who's to stop… some journos from concocting these bizarre, random stories just as they feel! Why can't they find out the truth before doing so!"
Even before, the press had gone into an overdrive with rumours of a rift between her and Hrithik because of Barabara Mori, the Kites co-star. Seems like, Sussanne has finally had enough of the media. And is seeing red for publishing reports which were not verified properly by the reporters.
-Sampurn Wire