Rakhis made a joke out of Elesh Manmohan Tiwari
By SAMPURN
Thursday, March 18, 2010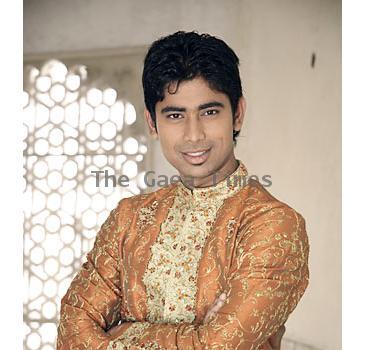 Sixteen suitors wooed Rakhi Sawant, one got engaged only to be left heartbroken but there's one man who is still smiling. Rishikesh's Manmohan Tiwari was one suitor who openly rejected Rakhi. His honest attitude drew praises from one and all. Perhaps, it's this attitude which has put him under spotlight again whereas his other colleagues are sulking.
Tiwari has bagged his first TV soap in Beyond Dreamz and Imagine TV's Jamuniya. However, the actor is faced with queries about Rakhi and the swayamvar. Tiwari though answers every query with aplomb. In an excusive chat with TellyCafe's Mayur Lookhar, Tiwary talks about his journey on Rakhi ka swayamvar, why he rejected the drama queen, his love for close friend Anjali and more. Read on.
Was Rakhi ka Swayamvar your ticket to tinsel town?
Absolutely! There's no two way about it. Despite my theatre experience, I was struggling to get to get a foothold in the industry. This was an opportunity that needn't be missed.
If you never wanted to marry Rakhi were you then deliberately looking to antagonize Rakhi on the show?
While I didn't wanted to marry her but I was firm in mind that if Rakhi chose me, I would have honoured that commitment. But the truth is did Rakhi really wanted to marry any one of us? Rakhi Sawant is a controversial and drama queen. One wouldn't like to associate himself with this image.
Having said that, don't you think the honest viewers of the country were taken for a ride?
Well, the viewers would have been cheated had I said that I wanted to marry Rakhi. She's an intelligent lady and I respect her decision to opt for a swayamvar. Everyone knows she's a firebrand and thus I didn't deem it fit to associate myself with a personality like her. That's why I quit the show.
Doesn't such a show make a mockery of the sacred institution of marriage?
No, I don't agree with this. Swayamvar have been part of our shastras. So, we've only revived the ancient tradition. What's good or right is a subjective matter. The viewers loved it so the debate should end there.
However, the sanctity of this swayamvar is questionable?
I can vouch for the channel and the production. Their intention was very noble. I can't say that about Rakhi. Look, she's made a joke out of Elesh (Parjunwala). It could so easily have been any one of us but I didn't let myself suffer this ignominy.
For a common man, the mere sight of Rakhi Sawant is frightening. How tough was it to convince yourself to participate in the show? Was your family supportive of this move?
Frankly speaking, I didn't give it much of a thought. As I said before, if it was in my destiny, I would have married her. I would have readily accepted it. My family though didn't approve of the decision at first instance. However, later on they accepted the fact if this was good for my career then so be it.
Rakhi had alleged that your family wanted a maid not a daughter-in-law. What's your response to this charge?
Well, my parents were asked what kind of a girl they'd prefer. All they said is that they wanted a daughter who can serve them just a cup of tea once every evening. Now is that asking for too much? Besides, Rishikesh is a land of Brahmins who needn't ask anyone for food. People themselves invite Brahmins to their house. Rakhi herself has experienced the wonderful hospitality of that place.
Ravi Kissen had alleged that you were seeing a girl named Anjali. Now that the show is long over, can you tell what relation do you have with her?
It was unethical on part of the show to drag an innocent girl into this. As a respected girl, her pride was hurt. I whole heartedly apologize to Anjali and her family. I was lamented for hiding about Anjali but here's a woman who was warming to 16 men. But I didn't complain. Anjali is an extremely beautiful person. As of now we're dear friends. She's an ideal partner one can ask for.
So, you love her but does she love you?
Yes, I do love her but I can't comment on what she feels about me. If God permits, then we might well get married.
What did you gain and lose from the show?
There have only been gains and no losses. As an aspiring actor, I got the breakthrough I wanted. Viewers liked my performance. Earlier, I was dying to be in front of one camera. Here there were 18 cameras surrounding me. What more could I have asked for?
Though the show has enabled you to bag a TV show, you're still being asked about Rakhi. Will you guys be ever able to get out of her shadow?
(Laughs). No one lives under other's shadow. Aapki sirf ek parchai hoti hai. However, credit needs to be given where it's due. Rakhi has a huge fan following across the country. Whatever happened between the two if us is history. I have great respect for her as a lady. We're still friends and do communicate with each other.
Coming to Jamunia, it's buzzed that the channel is fond of you and so they've gifted you this role. Is this true?
Yes, I don't deny that the channel is fond of me but I had to go the regular process of casting. I'm thankful to Imagine for having granted me this opportunity.
A young downtrodden girl being tied with an over aged Thakur has become a trend. Is there a fear that the show may not attract enough eyeballs?
It's premature to assume such a thing. In journalism, the same news is covered by all media but the readers/viewers will read the one which is presented well. It's the same for our show. A lot of people didn't give much chance to Rakhi ka swayamvar but the show crossed all expectations. We've got a good script and it's backed by good actors. I see no reason why it won't attract viewers.
Finally, have you set any goal for yourself in this profession?
Ah! One day I'd like to walk the red carpet at the Filmfare awards. Bollywood is the next destination. I'm sure my TV experience will help me find a break in Bollywood.
-Sampurn Wire