Zee TV synopsis for the weekend (18th Sep-20th Sep 09)
By SAMPURN
Wednesday, September 16, 2009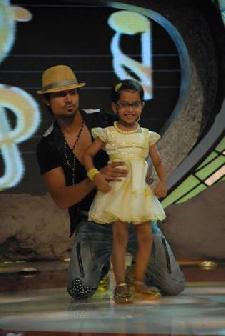 Saregamapa L'il champs
Telecast date: Friday,18th Sep at 9:30 pm
Salman Khan the DID season 1 winner makes an appearance in Saregamapa L'il Champs to promote his video in the movie 'Wanted' which he shot with superstar Salman Khan. The movie is releasing this Friday 18th September and Salman is anxious as this video might be his stepping stone towards the filmdom.
Salman came and spoke about his video and his experience with superstar Salman and the dancing genius Prabhu Deva who is the director of the movie.
He also announced the come back of Dance India Dance Season 2 and taught little Afsha and Dhairya how to shake a leg and groove that thing…
The viewers also are waiting with bated breath for DID season 2 - a frenzy that caught the Nation wild and tempted the audiences to put on their dancing shoes. .
Saregamapa L'il champs
Telecast date: Saturday, 19th Sep at 9:30 pm
The atmosphere was buzzing with electrifying music of yesteryears. The foot tapping tunes of 'Jawani Janeman' and ' yaad aa raha hai tera pyaar'. Bappi da, the original Disco King quite surprisingly agreed to share the stage with his one time arch rival Abhijeet Bhattacharya. The ardent viewers of Saregamapa would remember that three years back on the very same stage of l'il champs Abhijeet da and Bappi da had a major tussle about one contestant called Diwakar Sharma.
For the uninitiated, Diwakar was a blind child for whom Bappi da had a big soft corner. He used to appeal to people to vote for him as he was an exceptional child. Whereas, Abhijeet da's favourite was Sanchita who ultimately went on to win the crown. Abhijeet da was dead against Bappi da's extra fondness for Diwakar. He pleaded people not to get carried away with biases and vote for the best voice.
This led to huge hostilities between the two; so much so that both started abusing each other in public. It was also rumored that Bappa Lahiri ( bappi da's son ) had gone up to the extent of hiring goons and threatening Abhijeet da with dire consequences.
Movie: Hera Pheri
Telecast date: Sunday, 20th Sep at 7 pm
The film is about two unemployed youth who are struggling in the big bad world of Mumbai searching for a job. Shyam (Sunil Shetty) is looking forward to a job in a bank, in which his late father used to work.
Raju (Akshay Kumar) too is struggling to manage with the complications of life. His mother is in an old age home who thinks that her son is a successful businessman from Calcutta.
Now, as it happens in a masala film, both Shyam and Raju become tenants in Babu Rao Apte's (Paresh Rawal) house, a drunkard who has a kind heart.
Shyam has lot of debts to pay. He has to compete for the bank job with Anuradha Panikar (Tabu), whose father also met a similar fate. Both are at each other's throat, and not ready to give up, but Shyam decides to back out when he comes to know Anuradha's problems.
Om Puri plays Kharak Singh, a lovable and innocent guy, who has lent Rs 35,000 to Shyam and needs it desperately to marry off his sister. He comes to town looking for Shyam to get his money back.
-Sampurn Media