Tisca Chopra Provokes Emraan Hashmi
By Reema, Gaea News Network
Saturday, January 29, 2011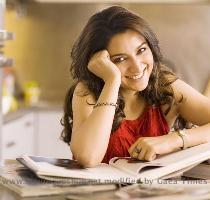 more images
MUMBAI, INDIA (GaeaTimes.com)- The serial kisser Emraan Hashmi, all of a sudden became the roaring tiger in the sets of "Dil Toh Bachcha Hai Ji", when his co-star Tisca Chopra said something not so good about Mallika Sherawat. Now that came up as a huge shock to many people, as Emraan Hashmi and Mallika Sherawat are self proclaimed enemies of the tinsel town.
Emraan Hashmi and Mallika Sherawat has been breeding bad blood ever since they were kissaliciously shooting for their first and last film "Murder". Although the film turned out to be a huge success, with a very sizzling on screen chemistry, they decided to call off their off screen chemistry forever. On that note, such a reaction on the part of Emraan Hashmi was rather the least expected by the rest of the people on the set. Perhaps even Tisca Chopra was not expecting that the lover boy would react like an action hero, charged with the sole motive of saving the dignity of his lover! A crew member confirmed to a reputed news source that Tisca Chopra and Emraan Hashmi had a war of words on the set. However, he also said that it was nothing big or serious, and the matter was soon sorted out between the two. However, the crew member also added that the two are not the best of friends.
Now the big question is how would Mallika Sherawat react if she comes to know that her enemy for so long, has actually stood to fight for her, against Tisca Chopra, so unconditionally? Will that mean a sequel of "Murder" might be on its way?
Filed under:
Bollywood
,
Celebrity Facts
,
Celebrity Wisdom
,
Entertainment
,
Lifestyle
,
Media
,
News and Gossips
,
Page 3 Events and Parties
,
World
Tags:
Dil Toh Baccha Hai Ji
,
Emraan Hashmi
,
India
,
Maharashtra
,
Mallika Sherawat
,
Mumbai
,
Tisca Chopra