"Piers Morgan Tonight" Premieres
By Reema, Gaea News Network
Tuesday, January 18, 2011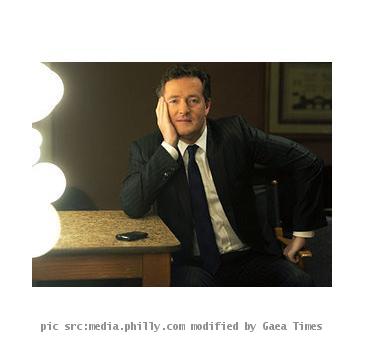 more images
LOS ANGELES (GaeaTimes.com)- "Piers Morgan Tonight", yet another intense interview oriented show premiered on CNN last night. Needless to say that its host was none other than Piers Morgan, the same person, who has been a tabloid editor of a reputed magazine, a television host and a judge of "America's Got Talent". His first interviewee in his very own talk show was Oprah Winfrey.
Before "Piers Morgan Tonight" premiered yesterday on CNN, the host said that he was rather a bit apprehensive, as in this show, he would be conducting the interview in front of several studio audiences. However it would be pre-recorded. Piers Morgan said in an interview that he loved the idea of pre-recording the show, because it facilitates gathering more audiences, as in the trailers, they know what is awaiting in the show. After the premiere was aired people were only with praises, about the new CNN host, for his intense humor, knowledge, intelligence and wit. Even Oprah Winfrey said that it was one of her toughest interviews in her last twenty years. She also added that she was quite surprised with his interviewing skills. He asked the talk show queen regarding several professional and personal matters, that included her dispute with Barbara Walters, her newly launched channel, OWN, her motives, desires, heartbreaks and how she felt when she lost her 14 year old child. He also asked her how many times she has properly been in love and she replied "Three times with two broken heart". When he asked her to describe her brand, pat came her reply, "I'm the love brand".
His next interview would be with radio personality Howard Stern, tonight. Howard Stern stated that he had no clue that Piers Morgan could talk. According to him, this host was only good at telling people, that they suck. However, after shooting "Piers Morgan Tonight" with him, he said that he has changed his opinion and felt quite proud of him. He also added that the two had great fun while shooting.
Filed under:
Celebrity Facts
,
Celebrity Wisdom
,
Entertainment
,
Features and Interviews
,
Interviews
,
Media
,
News and Gossips
,
Page 3 Events and Parties
,
TV Previews and Reviews
,
TV Show Synopsis
,
Television
,
World
Tags:
"Piers Morgan Tonight"
,
California
,
Cnn
,
Howard stern
,
Los Angeles
,
Oprah winfrey
,
United States