Gregg Allman Releases Solo Album
By Tias, Gaea News Network
Monday, January 17, 2011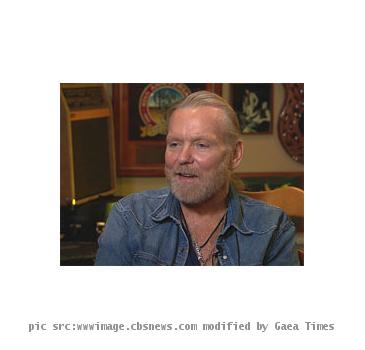 more images
LOS ANGELES (GaeaTimes)- People who are the ardent fans of blues music, are sure to be acquainted with Gregg Allman's name. He stands out to be one of the best known people in this genre of music and had remained an exponent of the music for several years, and continues to remain so. The singer has seen many springs and has now decided to release his first solo album in 14 years. The album is titled "Low Country Blues".
The opening track of Gregg Allman's "Low Country Blues" is a grim gritty take on Sleepy John Estes' "Floating Bridge". The song has an eerie beauty to it. Right after this, the famed blues singer slips into a Junior Wells' livelier track "Little by Little". The song opens with a sultry B-3 note and then gets laced with the effects of the piano from Dr. John, whose skill over the keyboards lend a voodoo spirit to the song. the next song after "Little by Little" is a powerfully driven acoustic blues, "Devil Got My Woman", of Skip James'. This song is followed by Muddy Waters' "Can't Be Satisfied." In "Low Country Blues", Gregg Allman is doing much more than just paying respect to blues masters. He's taking up the classic material that has influenced his own work and giving it his own very personal as well as very powerful touch. The album features Doyle Bramhall II on the guitar, Dennis Crouch on the acoustic bass, and Jay Bellarose on the drums, and Dr. John on the piano.
By releasing this music album, Gregg Allman claiming an ever-deepening connection to music that had remained his love for almost five decades. Now it is a matter of question, whether this album would do justice to his own talents. The answer depends upon the listeners of this genre music. The album is slated to release tomorrow.