Aaron Sorkin Gets Best Screenplay Award
By Naiwrita Sinha, Gaea News Network
Monday, January 17, 2011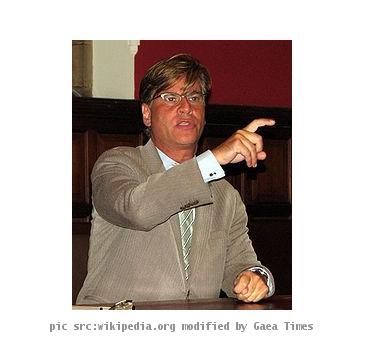 BEVERLY HILLS (GaeaTimes.com)- "The Social Network" was seen maintaining its winning streak after it swept away four awards last night at the 68th Golden Globe Awards on Sunday at Beverly Hills. Earlier it had also bagged four awards at the Critics' Choice Awards 2011. As "The Social Network" screenwriter
Aaron Sorkin
's name was announced for the Best Screenplay Award, it came across as the second award for the movie last night. Trent Reznor and Atticus Ross had already received the Award for the Best Original Score.
Aaron Sorkin after receiving the award was seen offering a speech which was dedicated to Facebook founder Mark Zuckerberg. "The movie itself is based on the invention of the popular social networking site where the Facebook founder has been portrayed on a little harsh note. The talented screenwriter conveyed his honor to Mark Zuckerberg, thanking him for his wonderful contribution. Aaron Sorkin acknowledged him as a great entrepreneur, a visionary as well as an altruist. Infact Aaron Sorkin was seen offering an olive branch in the honor of Mark Zuckerberg.
Next the "Few Good Men" screenwriter called out the name of David Fincher, who directed the movie in a brilliant way making it one of the biggest hits of 2010. The screen writer thanked David Fincher for his contribution mentioning how difficult some of the scenes were including shots where there was nothing else than typing which the David Fincher directed accurately. However, this was not the end for "The Social Network" screenwriter. Aaron Sorkin was also careful enough to sort the matter with the critics who accused the movie for being 'sexist' for not adding a touch of reality to the female characters in the movie.