Pooja Gandhi On A High
By shantanu, Gaea News Network
Sunday, December 12, 2010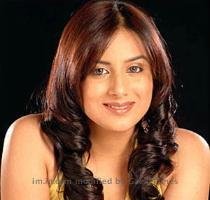 BANGALORE, INDIA (GaeaTimes.com)- Popular Kannada actress Pooja Gandhi has revealed that she had worked really hard for her latest movie 'Naa Raani Nee Maharaani'. The actress claims that it is a really a challenging role and the actress has done a double role for this movie. This is the first time in her career that she has attempted a double role and the noted actress is highly upbeat about her latest project. The ravishing Kannada star is really expecting that her hard work will bear out positive results.
'Naa Raani Nee Maharaani' is based on the 1991 hit movie 'Raani Maharaani' which starred Malashri, Ambareesh and Shashi Kumar in the lead roles. Director B. Rama Murthy who created 'Raani Maharaani' had made the remake on his earlier hit. He chose Pooja Gandhi as the lead for he believes that the actress will do full justice to the role. In a recent interview, Pooja Gandhi disclosed that the concept of the twin roles on the part of the female lead has been repeated whereas the script has undergone a complete change. She said that before taking up the role she had a conversation with yesteryear actress Malashri who told her that she can carry out the role with full confidence.
Pooja Gandhi's character's name in her latest venture are Rani and Pooja. On being questioned as to whom she bears any similarity in real life, she chose Rani saying that she is outspoken and restless just like the role that she edges in her latest venture. Meanwhile, the actress chose to hold a special screening for all her ardent fans who contacted her through a popular social networking site.