Katherine Schwarzenegger's Rock What You've Got Releases Tomorrow
By Avik, Gaea News Network
Monday, September 13, 2010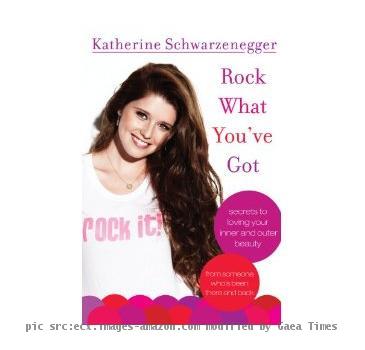 CALIFORNIA (GaeaTimes.com) — This had to be one way or the other, i mean you stay with a bunch always concerned about your body so what would you write about except for the same.
Katherine is the daughter of Arnold Schwarzenegger and Maria Shriver. Arnold is an Austrian-American bodybuilder, actor, model, businessman, and politician, who is currently serving as the 38th Governor of California. Maria is an American award-winning journalist and author of six best-selling books. So, now that you know her origins i guess it is no longer a surprising fact that she is writing a book and that too on the beauty of body.
Well, as far as Katherine's opinion is concerned, she quite took writing by surprise. In an interview she told,
I never thought I would write a book, But my fuel came from research and information on the growing number of girls who feel so much pressure to be thin and how young all of this is starting. My goal is to let girls know they're not alone when they're going through this and to spread the word about what young girls are going through today.
Katherine Schwarzenegger was born on December 13, 1989 in Los Angeles, California. She has one sister, Christina, and two brothers Patrick and Christopher. Presently she is visiting the USC Anneberg School for Communication & Journalism.
Previously, she had interned with Dove's Campaign for Real Beauty where she was exposed to psychology of different women. She only wants to inspire the girls to feel better about themselves and not to underestimate their inner-beauty. She claimed that she had always been in pressure being in a family where everybody speaks about body and fitness and work-outs and diet charts. She also spoke about her mom and said that, "Mom never forced us to eat or stop eating".
She wants the girls to breathe free, without caring about what others are thinking. Katherine wants to redefine the notions of a modern day women's life-style.
Let's see what she has in store for us. Would you like to grab hold of a copy. It is priced at around $22.99.