Movie Review - Red Alert (2010)
By SAMPURN
Friday, July 9, 2010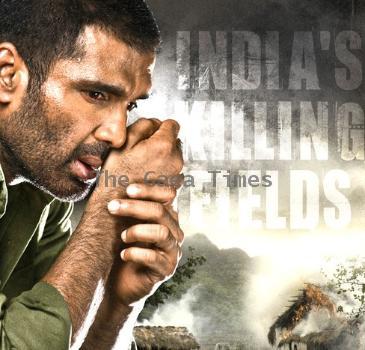 Red Alert - The War Within: A good attempt
Rating: 3 out of 5*
Starring: Suniel Shetty, Sameera Reddy, Bhagyashree, Vinod Khanna, Ashish Vidyarthi, Gulshan Grover and Naseeruddin Shah (in Sp App)
Director: Anant Narayan Mahadevan
July 9, 2010 (Sampurn Wire): With a hard hitting realistic film Red Alert – The War Within actor turned filmmaker Anant Narayan Mahedevan has finally found his calling after directing a good number of average movies distinctively belonging to a diverse genre. The film based on a true story manages to strike a chord with the manner Mahadevan has narrated the subject without taking sides and has been ably supported by his ensemble cast.
The film narrates the tale of Narsimha (Suniel Shetty) a farm laborer, who desperately needed money to fund the education of his children. But he ends up finding himself in the midst of Naxalites where his mission becomes a mere subset of a greater cause that the militant's pursue. From being a mere cook to actually training in weapons to being involved in shootouts and kidnapping, Narsimha himself in the thick of life he had never bargained for. A confrontation with the group leader (Ashish Vidyarthi) however turns his life upside down which leads him on the run from both law and the militants. But then comes a crucial time for Narsimha to take one vital decision that can either make or break him. But the decision ends in creating a conflicting situation that has him torn between conscience and survival.
The film's situations are straight out of newspaper headlines and Mahadevan has handled the subject maturely. He has given a treatment to the film like a thriller rather than resorting to a boring documentary style. Much credit also goes to writer Aruna Raje. However, the climax could have been better. The happy ending though might please audience but in reality the situations portrayed in the climax appear a bit implausible.
The film's another big strength however are the performances. Suniel Shetty has delivered his career-best act. Bhagyashree playing his wife is good. Sameera Reddy is almost unrecognizable in her non-glam act and is impressive. Ayesha Dharkar and Seema Biswas barely get any scope to justify their talent. Ashish Vidyarthi is very good. Gulshan Grover is fair. Amongst the veterans, Vinod Khanna in his short act and Naseer in his one scene role are super impressive. Zakir Hussain and Makarand Deshpande leave an impact too.
The camerawork by K. Rajkumar and action by Allan Amin could have been better.
Red Alert is a must watch for serious cinema lovers.
–Sampurn Wire