Christina Aguilera National Anthem Super Bowl Video Creates Buzz
By Madhusmita, Gaea News Network
Tuesday, February 8, 2011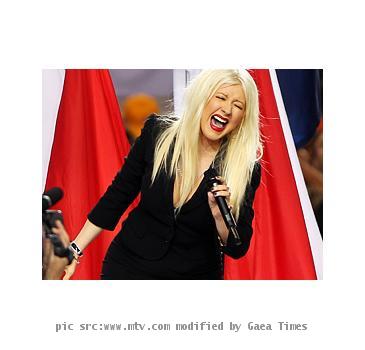 ARLINGTON (GaeaTimes.com)- On Sunday, during the grand opening ceremony of Super Bowl XLV gorgeous actress cum singer Christina Aguilera surprised 100 million viewers by mangling the words of the national anthem. The video of the whole incident has spread like wildfire on Internet and the netizens are scrambling on web to get a glimpse of the controversial national anthem gaffe. Initially, neither Christina Aguilera, nor her representative commented anything about the matter but later on the day, the singer released a statement where she apologized to the media.
The video shows that instead of singing, "O'er the ramparts we watched, were so gallantly streaming", Christina Aguilera improvised "What so proudly we watched at the twilight's last reaming". The audiences at the stadium as well as back at home were stupefied and taken aback to see such a mistake in the lyrics of national anthem. Dressed in a black suit with dark red lip color, the singer seemed completely ready to sing for the Super Bowl event. However, by mangling the words, the singer has earned many criticisms from the people. Before the start of Super Bowl, the "Burlesque" singer told a reputed media outlet that she has been singing national anthem since she was seven year old and singing in Super Bowl is a dream come true for her.
Christina Aguilera national anthem Super Bowl video only concentrated on the time when she was on stage, however, the media outlets reported that the singer was completely stunned and devastated when she went backstage. Later, she apologized to everyone by saying that she somehow got caught up in the moment that she lost her pace, which resulted in such a blunder. Christina Aguilera also added that she hopes people would understand her love for the country.