Is Fergie Pregnant? Rumor Stirs
By Reema, Gaea News Network
Monday, February 7, 2011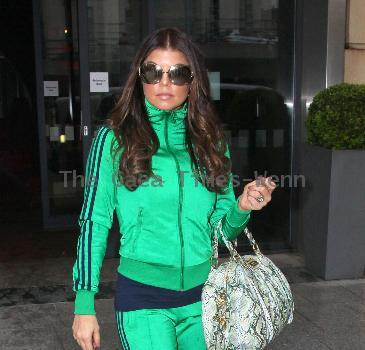 more images
ARLINGTON (GaeaTimes.com)- The Super Bowl at the Cowboy Stadium had many things more to offer than just football. The entertaining performance by some of the leading bands like Black Eyed Peas, Usher and Slash, gave many more meaty topics for discussion to all those, who are not the football freaks. However the most spicy of them was the apparent rumor, that Fergie is pregnant.
The rumor would have otherwise not aroused, has the singer not sported a tight dress. The dress that she was wearing, was above her knee length and hugged her torso tightly. It was slightly metallic and exposed a large part of her sleek and shapely legs. According to many people, she covered her torso perfectly, only because she had her baby bumps to hide. The sources added, that they could even see her tummy, that was slightly protruded that the normal, to make people wonder, is Fergie pregnant? She even wore a metal belt, to cover part of her stomach. The singer also lacked in energy, and was often singing in a very shrill pitch. People say, that her disastrous performance was because of her reported pregnancy. Reportedly, the singer and her husband, Josh Duhamel, who is an actor, has been planning to start a family for the last two years, ever since they tied the knot in 20009. Although they have kept saying that wanted to expand their family, they were unable to, because of their busy schedule.
Therefore, if the rumor turns out to be true, then it would be Fergie herself, to be the happiest. However, this is just a speculation by the general gossip mongers and certain leading bloggers. The news has neither been confirmed by the singer, nor by any other reputed source. One therefore, only has to wait and find out, whether Fergie is really pregnant or not!
Filed under:
Celebrity Facts
,
Celebrity Wisdom
,
Entertainment
,
Media
,
Music
,
Music Previews and Reviews
,
News and Gossips
,
Page 3 Events and Parties
,
World
Tags:
Arlington
,
Cowboy Stadium
,
Firgie
,
Josh Duhamel
,
Pregnant
,
Super bowl
,
Texas
,
United States