"Kagojer Bou" Released To Glory
By Reema, Gaea News Network
Saturday, February 5, 2011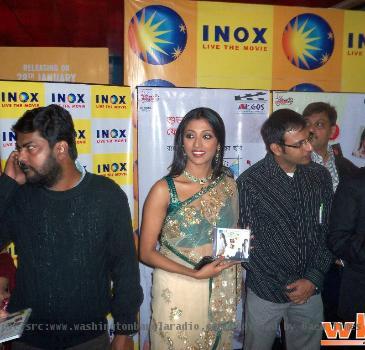 more images
KOLKATA, INDIA (GaeaTimes.com)- The much awaited bong flick, "Kagojer Bou" has been released yesterday. It is the seventh film directed by Bappaditya Bandopadhyay, and like most of his preceding ones, even this flick is getting good reviews. The film is based on a novel written by Shirshendu Mukhopadhyay, by the same name, and the director has remained quite true to the authentic storyline of the novel.
"Kagojer Bou" stars Rimjhim Gupta, Pauli Dam, Rahul Banerjee and Joy Sengupta, with Priyanka banerjee, Bratya Basu and Gargi Roy Chowdhury. The story deals with the basic human nature, marked with love, lust and, betrayal. It portrays the darker sides of human emotions, where individual gains presides over the genuine emotions. Rahul Banerjee is an unemployed youth, frustrated and disheartened for his lack of achievements, despite being educated. Luck makes him encounter the rich and famous businessman, played by Joy Sengupta, who wants to woo the hot and sultry Preiti, played by Paoli Dam. He asks the young boy to help him woo her in lieu of some money. The latter agrees and succeeds in the cupid mission, but soon, he is asked to get closer to Shreya, played by Rimjhim Gupta, and Joy Sengupta's wife in the film, so that he can make his divorce case stronger. Although he realized that he is being used by the rich man, he complies to his whims and fancies for money. However, the trick is soon busted by Preiti, who now renders Rahul Banerjee responsible for everything. She decided to marry the unemployed youth, and takes no time to file a divorce case against him to take a revenge. Rahul Banerjee once again realizes, that he has been used.
Paoli Dam, for the first time is seen in hot pants and minis in "Kagojer Bou". Her hard work to shed off those extra pounds in clearly visible as she looks hot in those revealing clothes. Each and every actor has portrayed their role with full conviction, to add yet another achievement in the history of Bengali art film.
Filed under:
Celebrity Facts
,
Celebrity Wisdom
,
Entertainment
,
Featured Article
,
News and Gossips
,
Page 3 Events and Parties
,
Tollywood
Tags:
"Kagojer Bou"
,
Bappaditya Bandopadhyay
,
India
,
Joy Sengupta
,
Kolkata
,
Pauli Dam
,
Rahul Bannerjee
,
RimJhim Gupta
,
Shirshendu Mukhopadhyay
,
West Bengal