Shahid Kapoor Lip Locks With Priyanka Chopra?
By Naiwrita Sinha, Gaea News Network
Saturday, February 5, 2011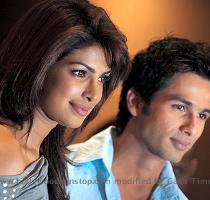 MUMBAI, INDIA (GaeaTimes.com)- Even though Shahid Kapoor and Priyanka Chopra might be hesitant to admit of their new found love openly, they certainly do not bother showing it in front of their respective families. At least that it what seems from their latest act. Buzz in the B town has it that the two apparently kissed in front of Priyanka Chopra's family!
A little birdie reports that the kissing act was an outcome of the consoling that Shahid Kapoor was trying to give Priyanka Chopra. According to reports, our own desi girl Priyanka Chopra was left very upset after the recent raid that was conducted by the Income Tax Department officials in her flat a few days back. The whole financial scam thing had demoralized her so much that beau Shahid Kapoor without any kind of second thought straight away rushed to her place to give her some moral support. A sources close to the couple on the conditions of anonymity reported that Priyanka Chopra after the last week's raid was extremely depressed both emotionally and mentally. Shahid Kapoor thought the best thing he could do at that situation was to give his lady love a shoulder to rest on.
Boyfriend Shahid Kapoor gave his best shot to console the Bollywood diva and that was what did the magic. The efforts were so earnest and hard that it reaped some really beneficial results that gave an all the more new development to the budding relationship. The story goes that Priyanka Chopra was so touched by the ways of Shahid Kapoor that she did not hesitate to hug and kiss them, all of it infront of her mother! Now, this certainly indicates that the families too must be in agreement with the relationship between the actors.