Bo Derek: Gorgeous At 54
By Naiwrita Sinha, Gaea News Network
Friday, February 4, 2011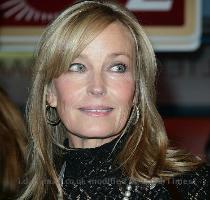 LOS ANGELES (GaeaTimes.com)- 1980's sex symbol Bo Derek still continues to rule the hearts of men with her charisma, something which was evident at the recent Lambertz Monday Night 2011 Schoko and Fashion party held in Cologne, Germany. The former model and actress is sure to give complex to the present day models and actresses. The 54 year old showed up at the high profile fashion event dressed in a black laced dress which she had beautifully matched with a white pearl necklace paired with hoop earrings adorning herself as one of the most gorgeous women present at the party that night.
Those who saw the former model cum actress nodded in agreement that she indeed looked much younger than her actual age. Ladies at the party must have had a tough time guessing what could have been the secret behind her charming looks despite the fact that she has crossed 50. It is not only her figure that has remained perfect, her skin too remains well toned and she swooned every man out there with her famous high cheek bones look. Despite the fact that botox and plastic surgeries rule the present day, the 54 year old Bo Derek has revealed that she shuns away from these artificial beauty enhancing techniques.
Although she has confessed that she at times does not mind resorting to the anti-aging procedures, but believes that the artificial way makes a woman lose her original facial expression. Bo Derek who rose to fame with the 1979 hit "10″ where she stole every man's heart with her sexy diva image still has maintained her beauty. The party also had other celebs like Danny Glover, Marcus Schenkenberg, and Dita Von Teese to grace the occasion.