Barbara Walters Discusses Heart Problems
By Naiwrita Sinha, Gaea News Network
Thursday, February 3, 2011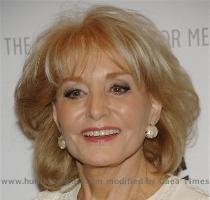 LOS ANGELES (GaeaTimes.com)- Come Friday night and a very special episode hosted by none other than eminent journalist Barbara Walters will be aired on ABC. The episode which has been named as "A Matter Of Life and Death" will see the veteran take up the issue of heart diseases which will discuss with some of her closest pals including former President Bill Clinton, David Letterman, Robin Williams and Regis Philbin.
The show is a special one where host Barbara Walters intends to spread the message out to the viewers that heart diseases should not be neglected and neither should the required recovery techniques for them. Audience will come across a special fact about the 81 year old journalist cum host and the former President when the show on Friday night will unleash the fact that the two had heart operations by the same surgeon. It was Dr. Craig R. Smith of New York Presbyterian Hospital, Columbia, who conducted a quadruple bypass on Bill Clinton in September 2004. Barbara Walters who was diagnosed with a faulty valve was operated by Dr. Craig R. Smith in May 2010.
Before the show goes on air, Barbara Walters has already made it clear that people should not mistake this episode as some sort of lecture. It is for sure that the show indeed will be offering a lot to the viewers for it will see all these celebrity guests sharing their own experiences with the heart disease. While Bill Clinton confessed that he knew he had no other choice if he wanted to live, David Letterman revealed that he would sob endlessly ever since the heart problem was detected.