Anderson Cooper Attacked
By Madhusmita, Gaea News Network
Thursday, February 3, 2011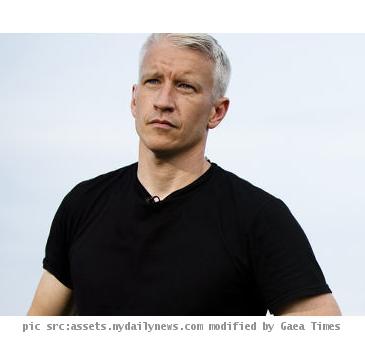 more images
CAIRO (GaeaTimes.com)- CNN anchor Anderson Cooper had to suffer the wrath of Egyptian President Hosni Mubarak's supporters in Cairo on Wednesday. Anderson Copper took to the social networking site to narrate the whole incident where he stated that he and his crew were kicked and punched badly but they escaped with just scratches. CNN producer Steve Brusk also wrote in the homepage of his social networking site that the anchor was attacked and was punched ten times in his head as the President's supporters surrounded him and his crew was trying to "cover demonstration".
Anderson Cooper's crew member and female producer Maryanne Fox was also attacked and beaten badly and at one point of time, the angry crowd tried to tear off Maryanne Fox's clothes as well. Anderson Cooper took to Twitter and stated that he and his crew were moving quickly and suddenly like a bolt from the blue a "bunch of guys" hit them. He also stated that anyone with a camera would obviously be under threat in that furious crowd. Anderson Cooper previously said that he had been awake for about four days in a row. However, he also mentioned that though he and crew were attacked, they are safe now.
A reputed media outlet reported that not only Anderson Cooper but also many other foreign journalists, who reported in Cairo were also attacked while they were covering the protests. Business Network correspondent of a reputed news network, Ashley Webster said that security officials came to their hotel and threw their camera off the balcony so that they do not tape any event. President Hosni Mubarak announced on Tuesday that he would not stand in September's election. Hence, his protesters have demanded him to step down from his post immediately.