Lupe Fiasco Releases "Words I Never Said"
By Reema, Gaea News Network
Tuesday, February 1, 2011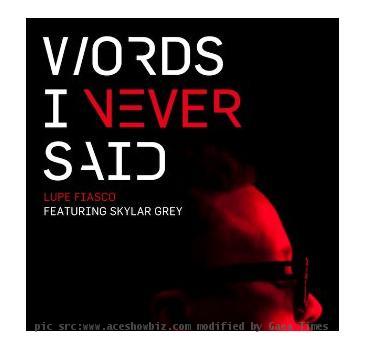 more images
LOS ANGELES (GaeaTimes.com)- Lupe Fiasco's second single from his latest album, "Laser" has been released today in the internet. The much awaited single, "Words I Never Said" is already dominating the virtual world, as for many days his fans have been waiting for yet another musical treat from the rapper.
The first single, "The Show Goes on" from the same album was released on October 26. Since then, the fans of Lupe Fiasco have been eagerly awaiting for his next release. "Laser" is scheduled to get released on March 8, and before that, the huge gaps between the release of each single, is actually adding up the intense curiosity. "Words I Never Said" is being quite appreciated by the fans even though it has just been a few hours since it released. The song aligns a lot to the rebellious personality of the rapper, as the lyrics are provocative, rebellious and often highlight the darker sides of life. The song occasionally deals with sensible issues like wars, poor economy and psychological conflicts within human beings. The song is produced by Alex Da Kid and features Skylar Grey, to make the song a more complete package for the rap fans.
On his latest release, Lupe Fiasco said that all he wanted was to deliver a song that was positive in nature, with the kind of aura, that would be perceived as uplifting, informative, and something that would be "dropping knowledge". He feels that is the reason why his fans are retaliating to the song, "Words I Never Said" so well. "Laser" is the third album released by the singer. His last album, "Lupe Fiasco's The Cool" was released in 2007, and since three long years, people were longing for another release. Perhaps that is another reason for the rapid success of this single.
Filed under:
Art and Culture
,
Celebrity Facts
,
Celebrity Wisdom
,
Media
,
Music
,
Music Previews and Reviews
,
News and Gossips
,
Performing Arts
,
World
Tags:
"Words I Never Said"
,
Alex Da Kid
,
California
,
Los Angeles
,
Lupe Fiasco
,
Skylar Grey
,
The Show Goes on
,
United States