Denise Richards and Nikki Sixx Dating : Do We Really Care??
By Turjo, Gaea News Network
Thursday, December 16, 2010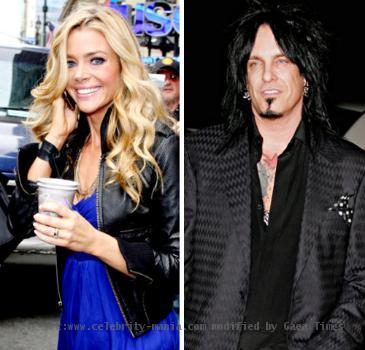 more images
LOS ANGELES (GaeaTimes.com) — Do we really need to care if actress Denise Richards and 'Motley Crue' bassist Nikki Sixx are dating? Ok, even if they are seen to-gather at a cafe in Calabasis having breakfast, does that really implies we are going to have a new celeb gossip running down all the paparazzi blogs? Can't we just leave them alone!! For once?
According to Us Weekly, both Denise Richards and Nikki Sixx are now 'quietly dating'. Now, what does it mean? Should they jump around wearing red Tutu with a heart shaped balloons in their hand to show off their love for each other? Give it a rest man! From a witness we have heard that they were just having a great time chatting only. No hanky-panky or kissy-wissy! So, why are we excited all about?
Are we excited because Denise Richards had previously dated Bon Jovi guitarist Richie Sambora and probably has a fetish for musicians? Or is it because Nikki Sixx had four children with ex-wives Donna D'Errico (of "Baywatch" fame) and Playboy Playmate Brandi Brant in his dating list?
It's better we should turn our attention to Denise's and Nixx's individual performance as an actress or as a musician on stage. That is where we should show curiosity about the pair. Not about what they are eating or chatting or even sneezing in broad daylight!
What do you think? Are you really bothered that Denise Richards and Nikki Sixx are dating now? Do you really want to take the headache of knowing what they are doing in their private life? Go have some fun with your family members. You deserve better than this rubbish news.