"Firebreather" Gets Thumbs Up
By Madhusmita, Gaea News Network
Thursday, November 25, 2010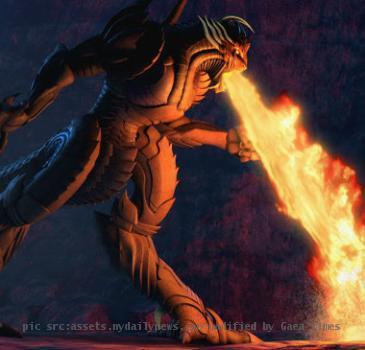 more images
LOS ANGELES (GaeaTimes.com)- Highly anticipated movie "Firebreather" debuted on Cartoon Network last night and it gave ample entertainment to the audience to chew on. Peter Chung directed movie is based on the comic book series of the same name and it is written by Phil Hester and Andy Kuhn. The screenplay of the movie is written by Jim Krieg and produced by Julia Pastor. The movie has received mixed reviews from the audience as some critics pointed out that the movie shows wonderful graphics where as other pointed out that "Firebreather" has characters which are puppet-faced.
"Firebreather" mainly deals with a normal high school student Duncan's life who is has a human mother and whose father is Belloc. Duncan's father, who is a 127 feet monster king wants his son to become the next "King of All Monsters", however, Duncan wants to lead a normal life. Belloc tries to impose his own whims on his son and tries to harm him and his family. In the end Duncan uses his fire breathing techniques and superhuman qualities to restore the safety of his friends and family. The critics are of the opinion that though the story was dragged a bit in the middle but later the story takes its own pace and manages to live up to the expectation.
Peter Chung, the director of "Firebreather" who is also known for directing several other kids' movies gave an exclusive interview to a reputed media source where he spoke about his movie and also various other facets of it. He said that a 2D movie is completely different from a 3D flick but he enjoys working on both the kinds. He said that he had lot of creative freedom to develop his characters and the movie has strong poses, strong shapes and strong silhouettes with a balance of colors.