'Hisss' Movie: The Fizz Missing!
By Arnab Ghosh, Gaea News Network
Saturday, October 23, 2010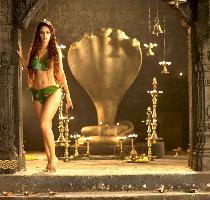 more images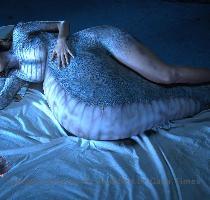 more images
MUMBAI, INDIA (GaeaTimes.com)- Bollywood actress Mallika Sherawat who is known more for her sultry on screen image rather than acting skills left no stone unturned to hog the attention of the media and generate buzz around her so called Hollywood launchpad 'Hisss'. She went to a temple to seek the blessing of god and also called snake charmers at a press conference to promote her film. The cast of the movie 'Hisss' has actors like Irrfan Khan and Divya Dutta beside her. However, it seems that despite her efforts the fizz has gone out of the movie which has emerged as a B grade film adaptation of popular Indian myth and folklore. The movie has got lackluster reviews for its shoddy editing and uninspiring performances.
In 'Hisss' movie Mallika Sherawat does manage to hold the attention of the viewers in her transformation scenes. However, as was claimed by the film's producers the special effects showing the actress transforming into a venomous snake are not exactly top notch and the viewers have seen far better CGI and visual effects in any Hollywood films. Therefore, the visual element does not appear as mesmerizing. Irrfan Khan manages to hold his ground as the confused cop but Divya Dutta is wasted in her role. The journey of the shape shifting snake from the dense forest to civilization looks somewhat illogical as she gets into a killing spree to get back her mate.
In 'Hisss' movie the scenes showing the actress making love to a snake are almost repulsive and there is hardly anything aesthetic about it though Mallika Sherawat said it was one of her best shooting experience. In the end the movie ends up like an average Horror flick with no memorable performance by any of the actors.