'Hisss':Mallika Sherawat's Snake-woman Act
By Arnab Ghosh, Gaea News Network
Wednesday, October 20, 2010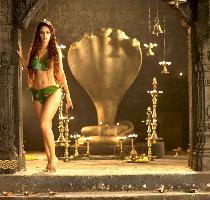 more images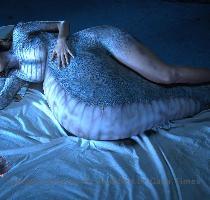 more images
MUMBAI, INDIA (GaeaTimes.com)- Mallika Sherawat, the Bollywood bombshell known for her raunchy item numbers in a number of films and share of controversies is back in news once more, this time for her much awaited film 'Hisss'. The film which has been hogging media attention for quite some time is going to be released in the country on Oct 22nd. The sultry actress plays a mysterious snake woman in the film who is seeking revenge on those who captured her partner. Reportedly, she has done some dare bare scene sin the movie but according to sources close to the filmmakers those scenes were essential for the plot and not meant for titillating.
Earlier a number of Bollywood films have been made on the stories of snake woman and some of them have proved to be successful as well. The film 'Hisss' has top notch special effects which according to the actress is at par with Hollywood standards. In the film Mallika Sherawat has actor Irrfan Khan and Divya Dutta as her co actors. The actress has done her level best to promote the film and even posed with a large python at the coveted Cannes film festival. It is a multi lingual film and will be released abroad as well.
'Hisss' has already generated enough pre release buzz which may work in its favor. For actress Mallika Sherawat this could be a turning point. She has not appeared in a pivotal role in any movie worth mentioning in recent times. The actress revealed in an interview that for shooting she had to spend a long time in getting the makeup done.